Never did I think at 34 years of age I would be Dwarf hunting in Wroclaw. However, on our recent visit with a 5 year old in tow that's exactly what we did!
Where Is Wroclaw
Wroclaw (pronounced Vro-tz-wav in English) is located in the Silesia region of South West Poland on the River Oder.
History Of The Dwarfs
Waldemar Fydrych, an artist from the University of Wroclaw formed a group called the Orange Alternative. The group peacefully protested the Government's banning of free speech and public gatherings during the period between 1981 and 1983. They defaced communist propaganda with paintings of little Dwarfs, which brought light and hope to a dark situation.
This is the main man, Papa Dwarf dedicated by the Government in 2001 and located on Swidnicka at the junction of Kazimierza Wielkiego, the meeting place of the Orange Alternative before protests.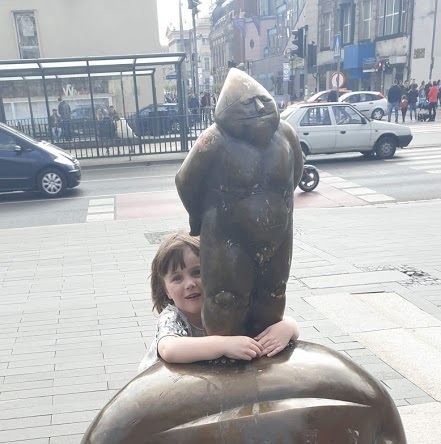 Local businesses bought into the idea as a mark of respect and have created their own Dwarfs all over the city.
Opening Hours & Cost
Totally Free and 24/7.
Where To Find Them
They are absolutely everywhere! Keep your eyes peeled and hunt.  If you want to cheat, you can buy a map from the tourist information office in the Market Square in the Old Town. However, where is the fun in that!
During the hunt we visited all the main sights Wroclaw had to offer; Market Square, Wroclaw Town Hall, Wroclaw University, numerous beautiful churches including the beautiful Cathedral of St. John the baptist, and Tumski bridge (lovers bridge). There are literally hundreds of little Dwarfs dotted all around the very beautiful city of Wroclaw.
Megan had an absolute ball during our three day visit. She was on high alert at all times looking high and low, leaving no stone unturned.  She squealed in delight each time she found a new one, and rushed over to act out what it was doing and have the proud moment captured on camera.
We won't spoil the fun and show you them all, but here is some of our favourites: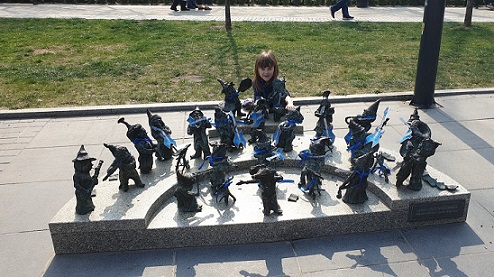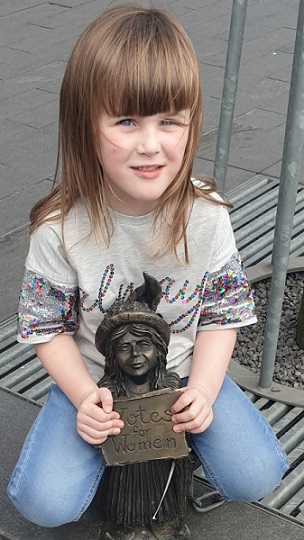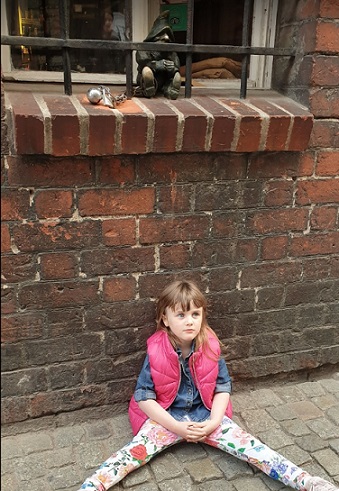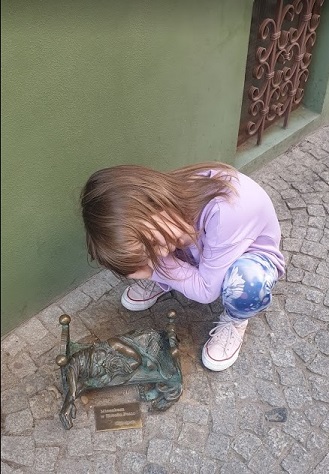 More pictures of Megan acting out each one can be found on our Instagram.
Would We Recommend
100%. Dwarf hunting in Wroclaw is so much fun. I wish every city had Dwarfs to hunt – We have all been there when walking around sight seeing just doesn't appeal to our little ones.  But Megan got so into the hunting, she didn't notice the miles she racked up each day.
Top Tips
Wear comfortable shoes as you will do lots and lots of walking!
Look high and low, these Dwarfs are everywhere.
Total Found – Lost count!
Thanks for reading!
The Lewis family.
More posts on the Poland, found here.