With our target to visit 100 countries before Megan turns 18 set, what better way to get a taste for what's to come than with a visit to Mini Europe in Brussels, Belgium.
What is mini Europe
Mini Europe is a small park which contains mini monuments from all the countries within the EU.  Each model is roughly 1:25 of it's original size. The models were amazingly intricate and accurate. The park was opened in 1989 and has grown in size as the EU has expanded.  If you're visiting the Atomium then you must add this to your itinerary.
Where is Mini Europe?

Situated in the Bruparck, in between Heysel football stadium and the world famous Atomium.
How to get there
As we were on holiday, we used the public transport.  We purchased our 24 hr transport passes and jumped on the underground at Gare de l'Ouest. We followed the blue line in the direction of Roi Baudouin metro,  getting off at Heysel stop.  From Heysel it is a very short walk to Mini Europe, the walk was well sign posted.
Cost & Opening Hours
There is a wide selection of different package types for mini Europe which can be found here. Have a think about what else you want to see in the city and if you can bundle it up.
What to see and do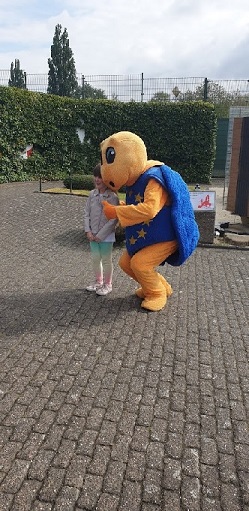 On entry we were greeted by the turtle mascot of the park, where Megan stood for the traditional tourist attraction photo which could be purchased from the stall at the park exit. We managed to take a sneaky picture of our own instead!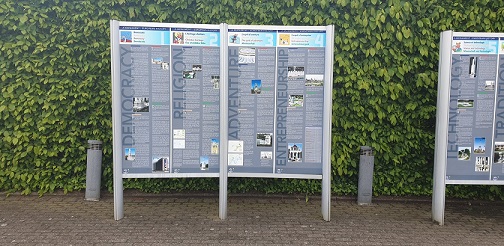 As we walked around the park there was a number of information points, which gave us some interesting facts and information on the countries within the EU.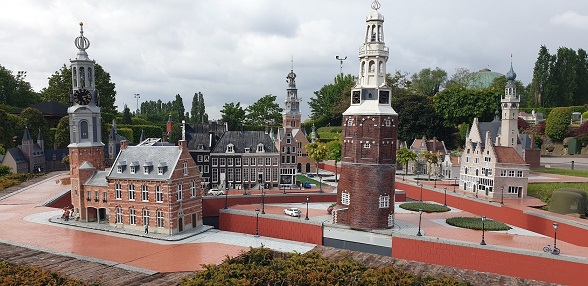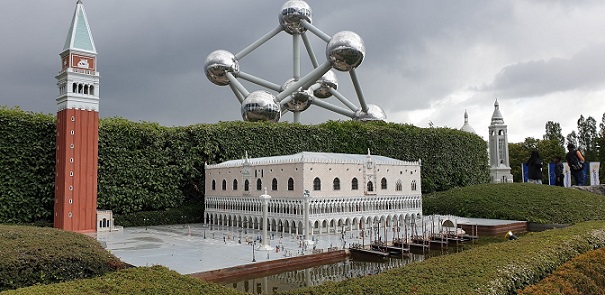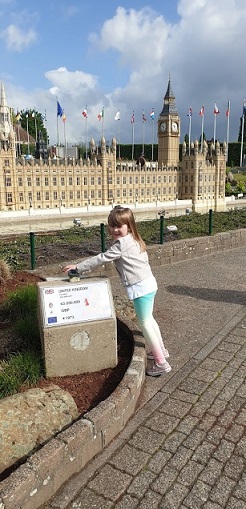 In front of each model is a display which gives the country name, population and much to Megan's delight a button to press which played the National Anthem of that particular country!  Megan had so much fun here, she raced around, excited to see what was next. There is lots for young children to see and do – Megan particularly liked the Volcano which had a plate to stand on and when it 'erupted' the plate shakes.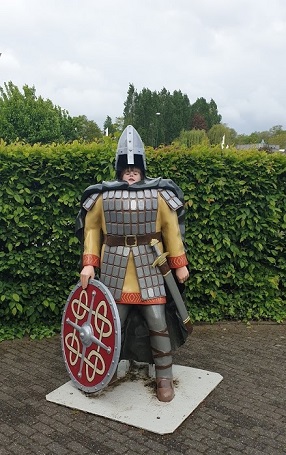 Also dotted around the park there is places you can take your picture dressed in traditional clothing from a country.  A great opportunity for Megan to have some fun.
Towards the end of the park is the café, which we made a dart for during a hail storm.  They sold hot/cold food and beverages, including beer. To be honest, the price wasn't as bad as I expected. We didn't notice anywhere else nearby to eat, so if its near lunch time it might be an ideal stopping place.
Would we recommend
Yes. Mini Europe is good fun for the family. It has the right amount of information for each country and has interactive sections throughout the park to keep the young kids interested.  Definitely something to see when you're in Brussels!
Top Tips
Get there early the park does get very busy and there can be a bit of jostling for position while taking photos, especially with those that like to take 1000 shots – to get the perfect one!!
Bring snacks for the kids, while the park isn't huge the shop and cafe are at the end so to save yourself having to double back have snacks on hand.
Bring a coat or a jacket, the weather can change so much and there is no shelter, we went from sunshine to a hail storm in minutes and had to make a dash.
Hopefully you enjoyed reading about our visit to mini Europe. It's a great family fun day out.
Check out other fun things to do in Belgium here.
Thanks
The Lewis Family.