When planning our trip to Thailand, and after hearing so much about animal exploitation and cruelty there, we wanted to make sure we paid a visit to a proper animal sanctuary.  A friend recommended the Wildlife Friends Foundation Thailand (WFFT).  We decided to give it a go….
WFFT is a charitable organisation fully dependant on donations and income from their volunteer programme and tours.
The sanctuary offer a full day, or half day tour.  We opted for the full day tour, which included hotel transfers, an elephant walk and shower, and a buffet lunch. We paid 2,100 baht in 2016.
Where Is WFFT – Thailand
WFFT – Thailand is located about 2 hours away from Bangkok and a 50 minute drive from Hua Hin.  We opted to stay in Hua Hin on our way back to Bangkok, from Ao Nang – See our previous blog post, The longest journey ever!!!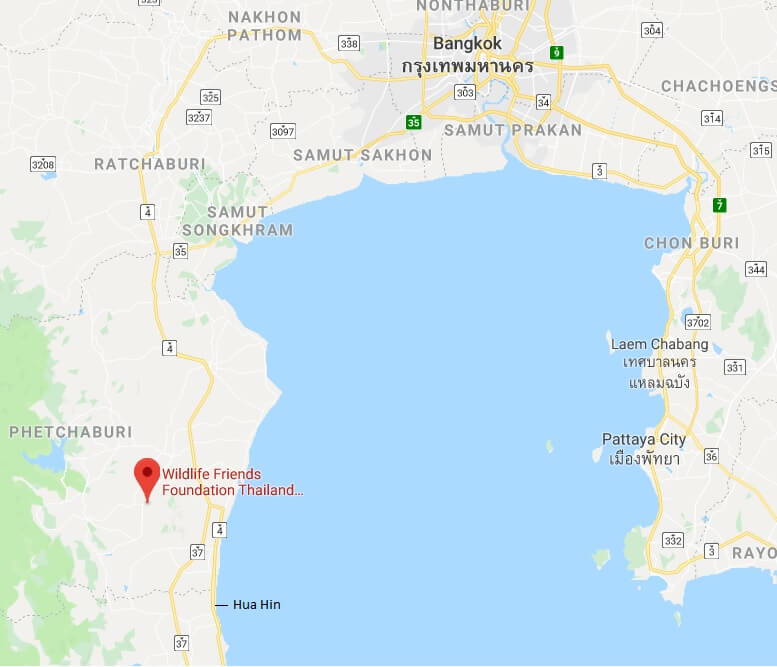 How To Get There
We arranged with the sanctuary to pick up from our hotel in Hua Hin. They also do pick ups in Bangkok, or you can drive yourself.
On the day they were experiencing staff shortages and had difficulty collecting everyone at the allocated times.  We eventually got collected about an hour late, which did eat into our time at the sanctuary, however when we got there and seen all the hard work the staff are doing to look after the animals, it really was no big deal at all!
On Arrival
We met some of the people who volunteer at the sanctuary, they were lovely and so friendly, you could see right away why they worked there, their love for the job was very clear to see.
We were given some fruit to feed an elephant while waiting on others to arrive.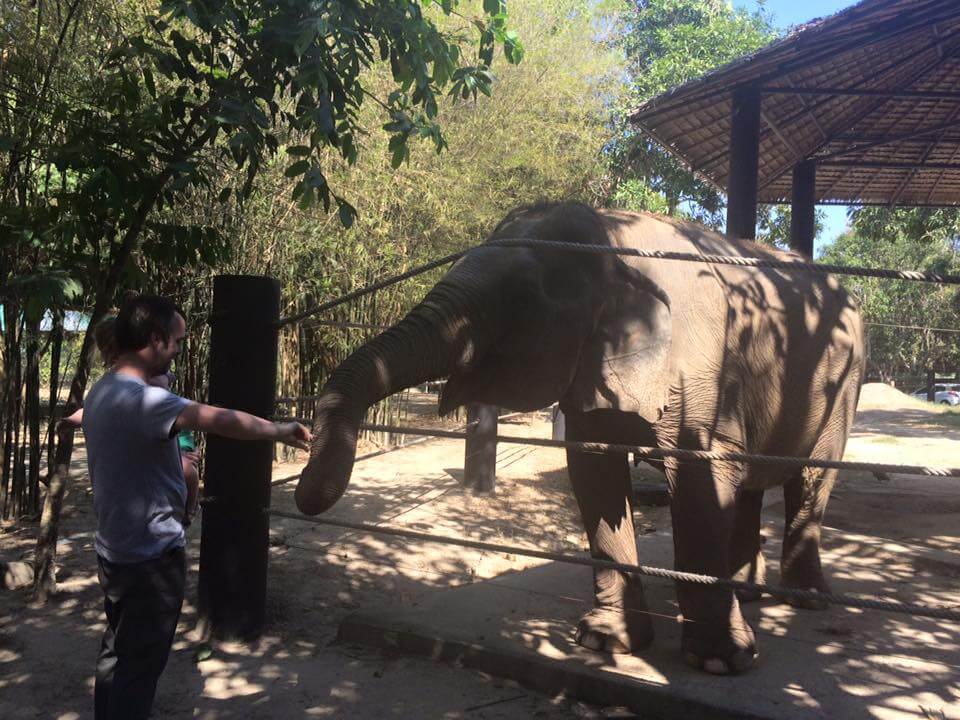 The Tour
The tour will begin in a smaller area,  made up of rescue animals and animals who are abandoned at the gates to the sanctuary, which apparently happens a lot!
The sanctuary is home to many animals; from elephants, to bears and birds, crocodiles and gibbons.
We were initially alarmed to see animals in cages, but it's all part of the process of rehabilitating the animals for release back into the wild.
Some of the animals only know apartment or city life, as they have been kept as pets or to exploit for money in the tourism industry as photo props or for elephant rides.  The animals start in small cages, then move in to bigger ones which replicate their natural habitat, then onto an island within the sanctuary.  If they cope on the island, they are  ready for release back into the wild. Sadly not all animals will cope on the island, so the process will start again.
Some of the stories we heard were heart breaking, and one of the memory's that stand out of me the most was the noise that the gibbons in the sanctuary naturally make – it's a continuous high pitched screech.  It showed that the poor ones you see on islands in Thailand, or the streets of Bangkok being passed around tourist for hug's as photo props are clearly sedated and heavily drugged.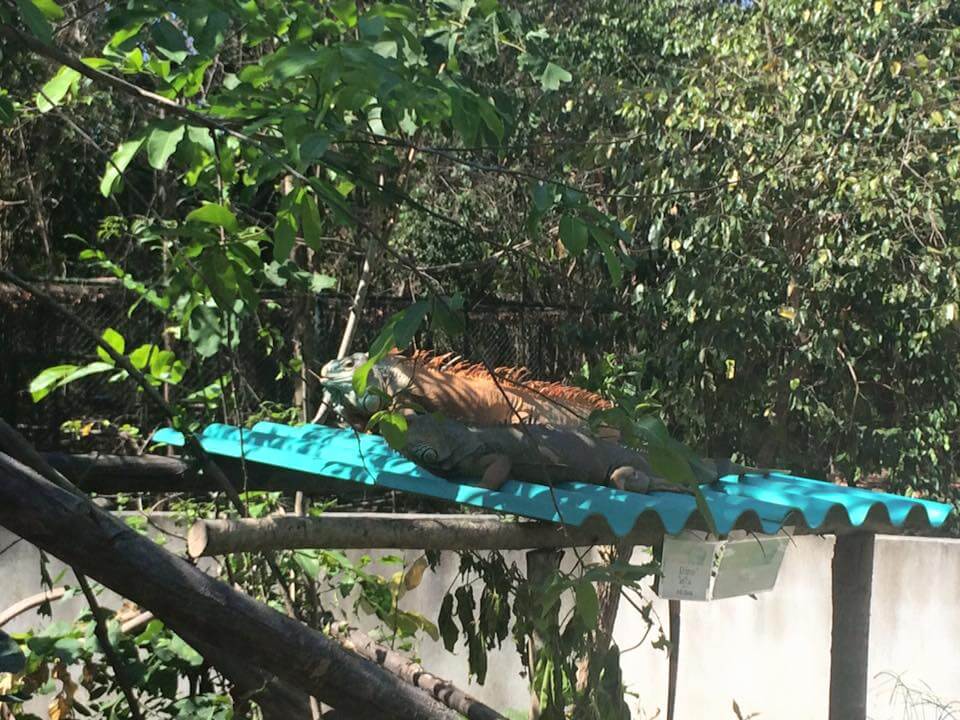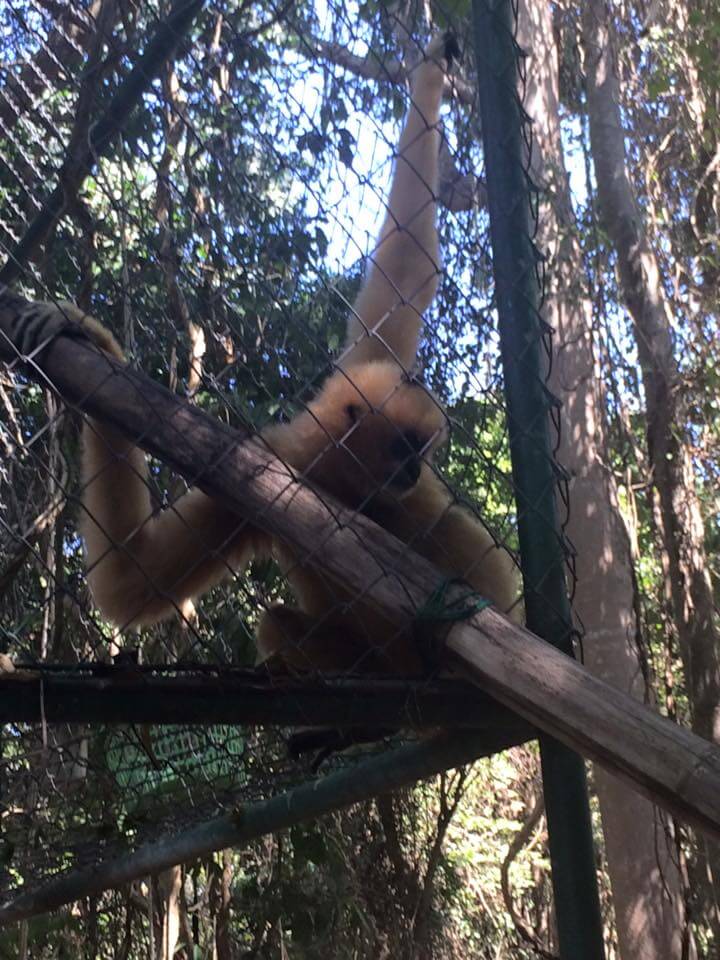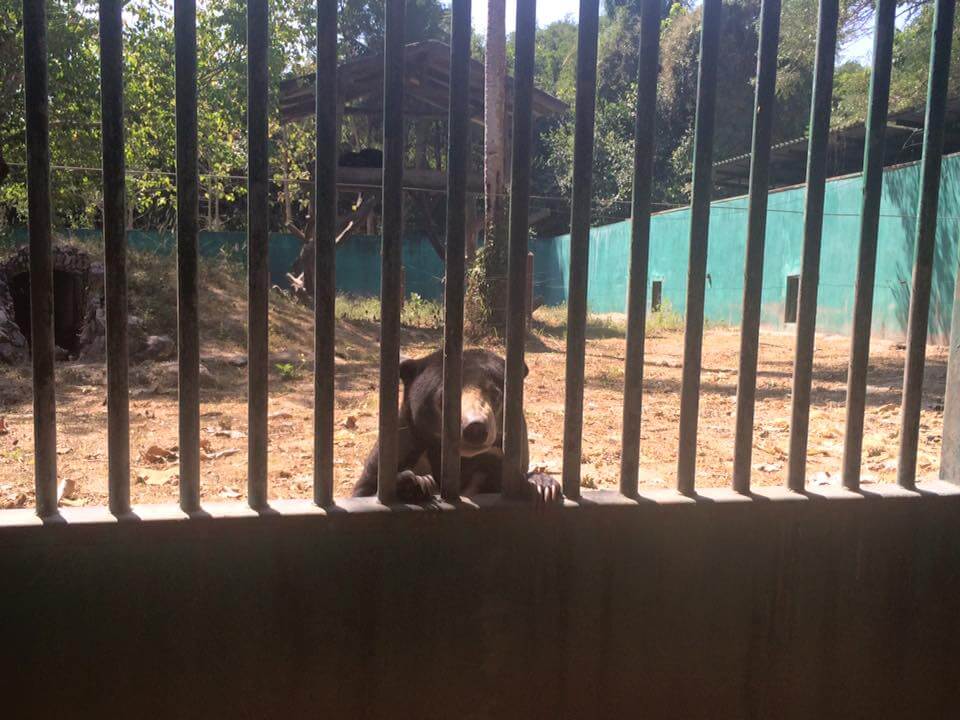 The sanctuary looks after all sorts of animals, there are deer and boars just walking around the small forest. Don't be alarmed  if one pops out in front of you while taking the short walk around the grounds.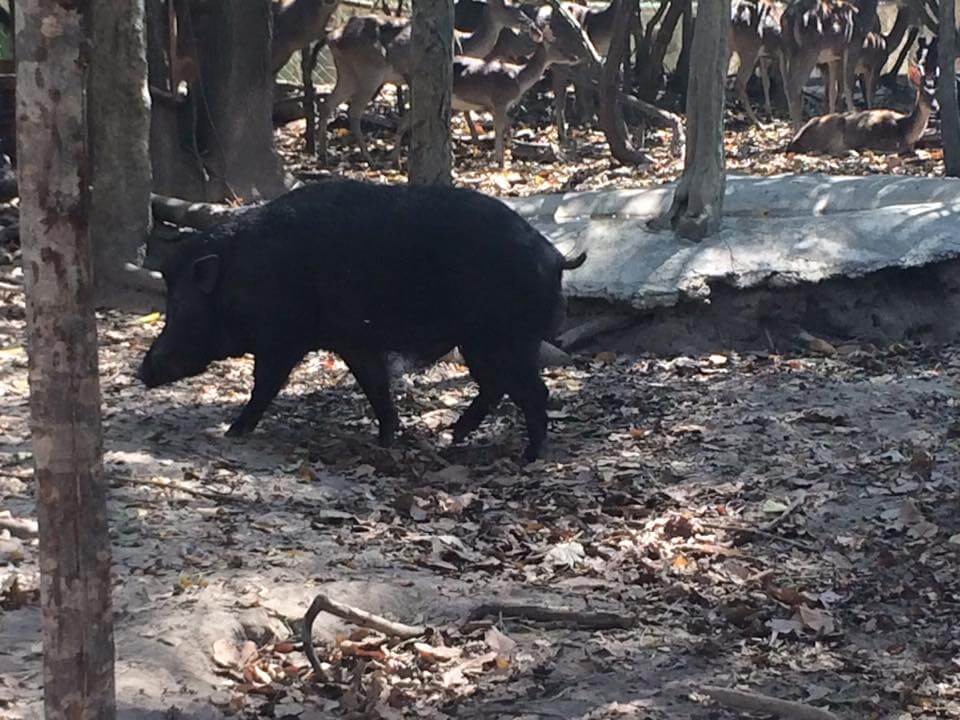 Bath Time
Next up, we got to help shower an elephant. The elephant we showered, Kaew petch was over 50 years old and had been used to lift and transport heavy cargo.  Once he got too old and slow he began work in the tourist trade, offering elephant rides to tourists, all day everyday, before finally arriving at the sanctuary to retire and eat bananas.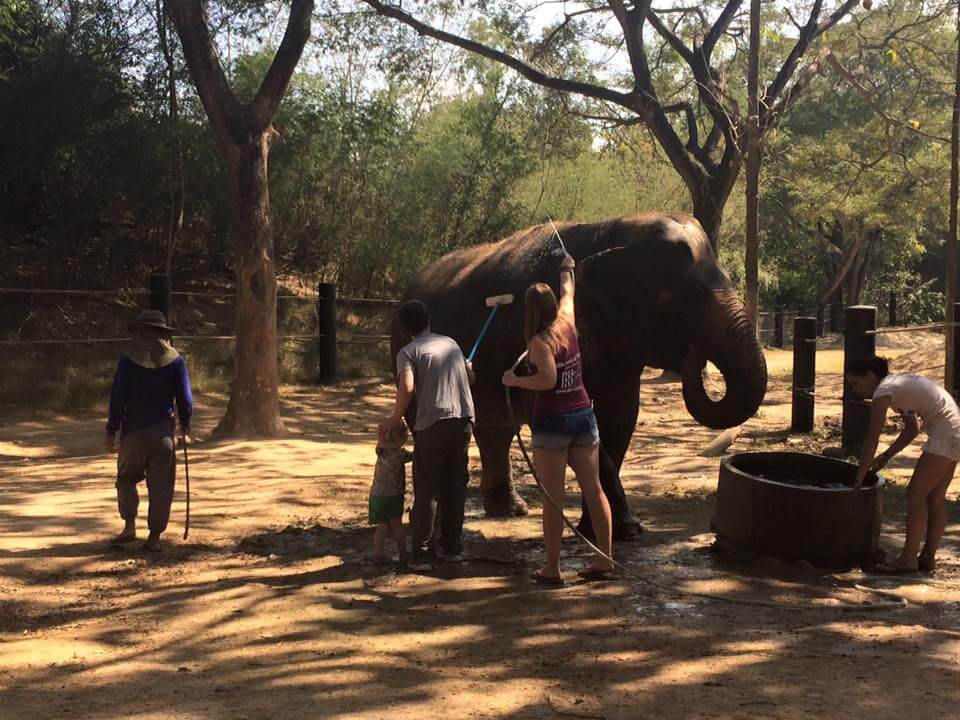 Bath time was Megan's favourite part.
Walk Time
After bath time we took the elephant for a short walk along the lake (this contains the island which I spoke about earlier), it was a very short but enjoyable walk and we got to feed the elephant again as we walked along.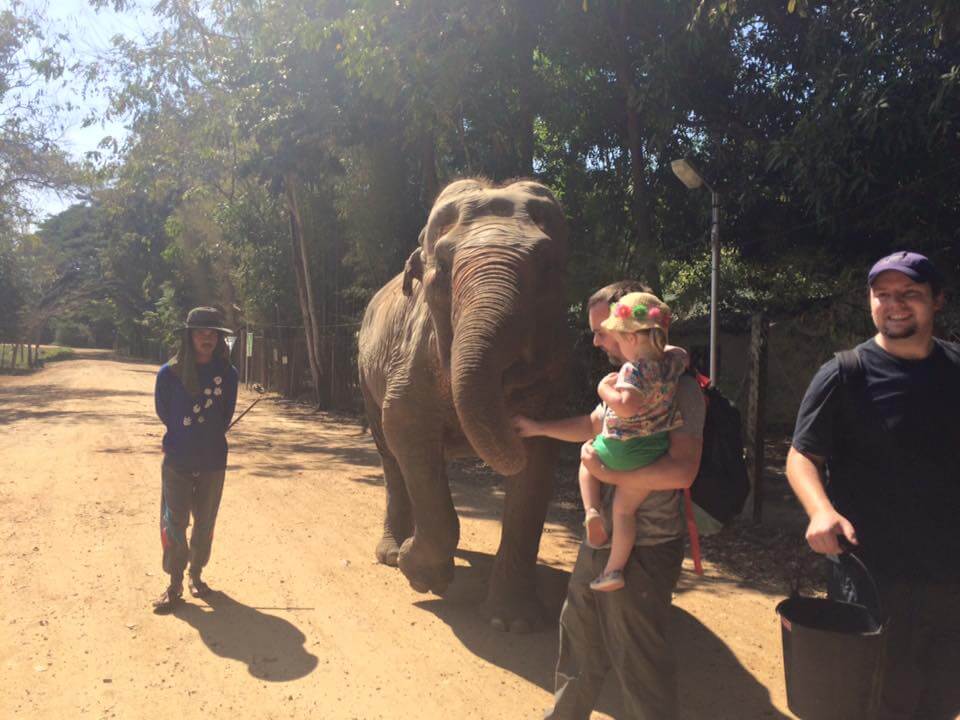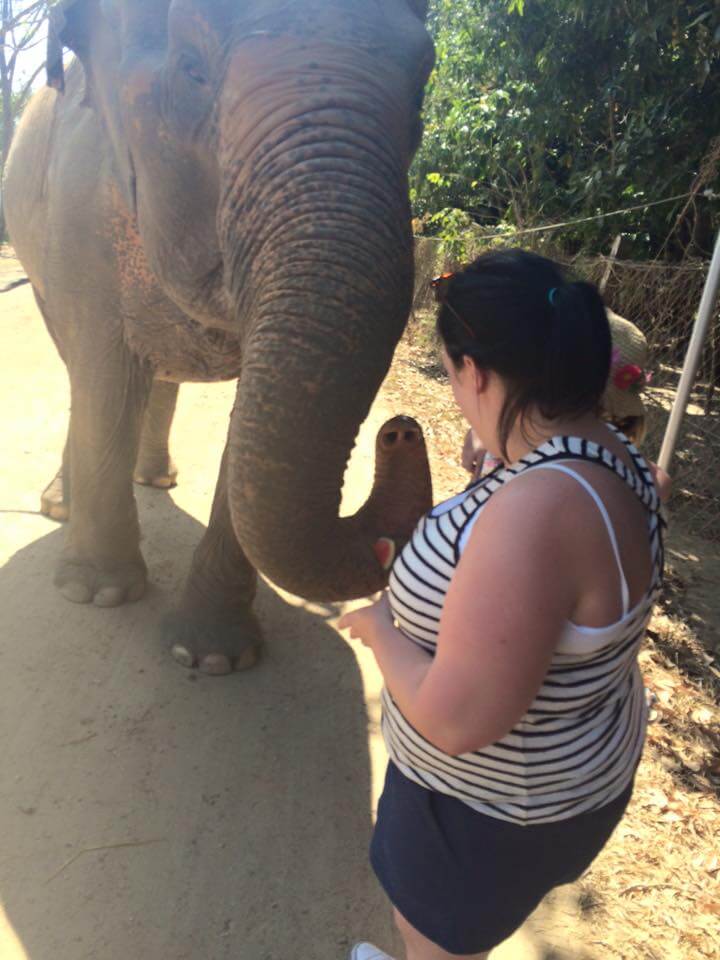 Lunch
The tour includes a delicious two course lunch, which on the day of our visit consisted of Thai curry, with rice and mango and sticky rice for dessert.
Park Tour
After lunch we got to visit the wider area of the sanctuary in an air conditioned car, which was a welcome break from the midday sun.
There is a number of different elephant areas all of varying sizes. The first one we visited housed an amazing elephant family.
We got to get very up close and personal with the elephants. However in order to minimise the impact visitors have on the animals we were not permitted to touch or feed the animals without permission.   This was fine by us, and the very reason we opted to visit a sanctuary in the first place.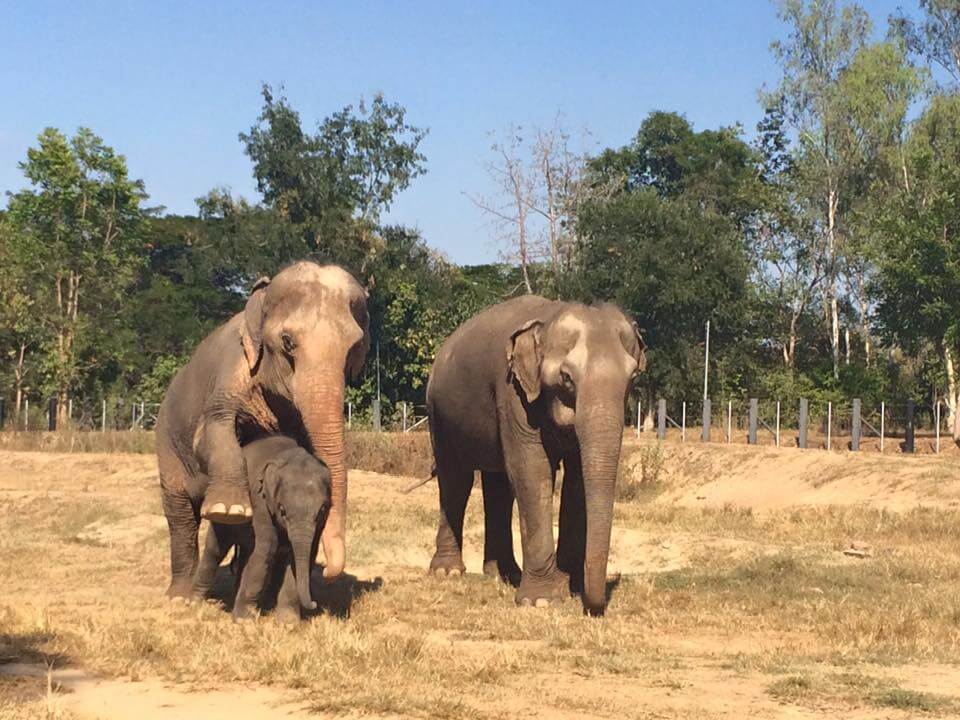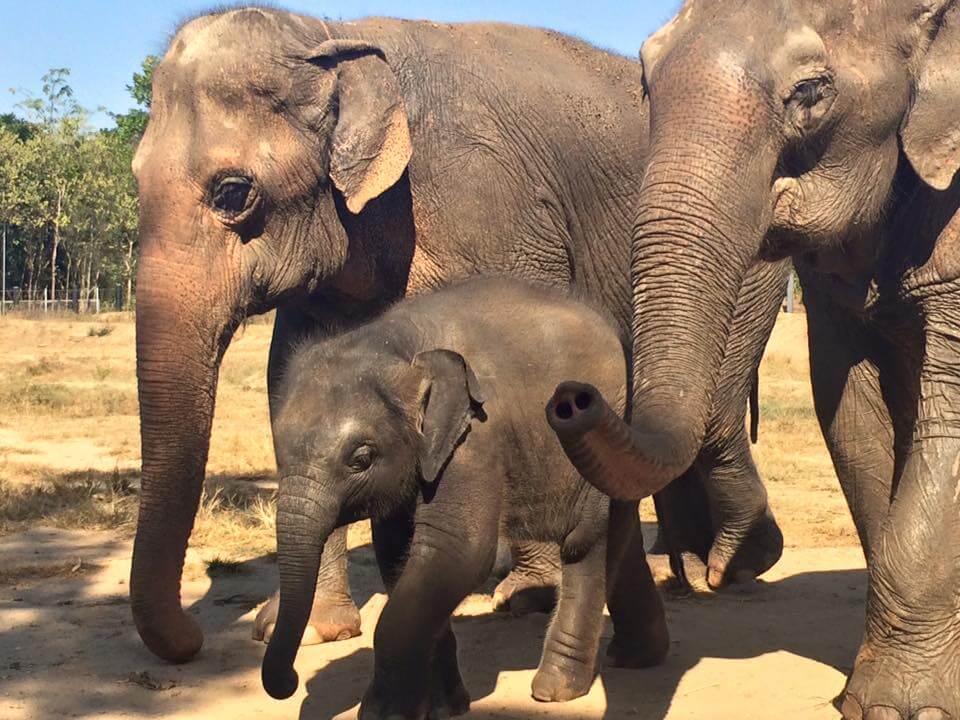 The next area had a massive lake in it, for the elephants to swim and cool off in.  We spent ages watching the elephants have fun, splash around and enjoy themselves!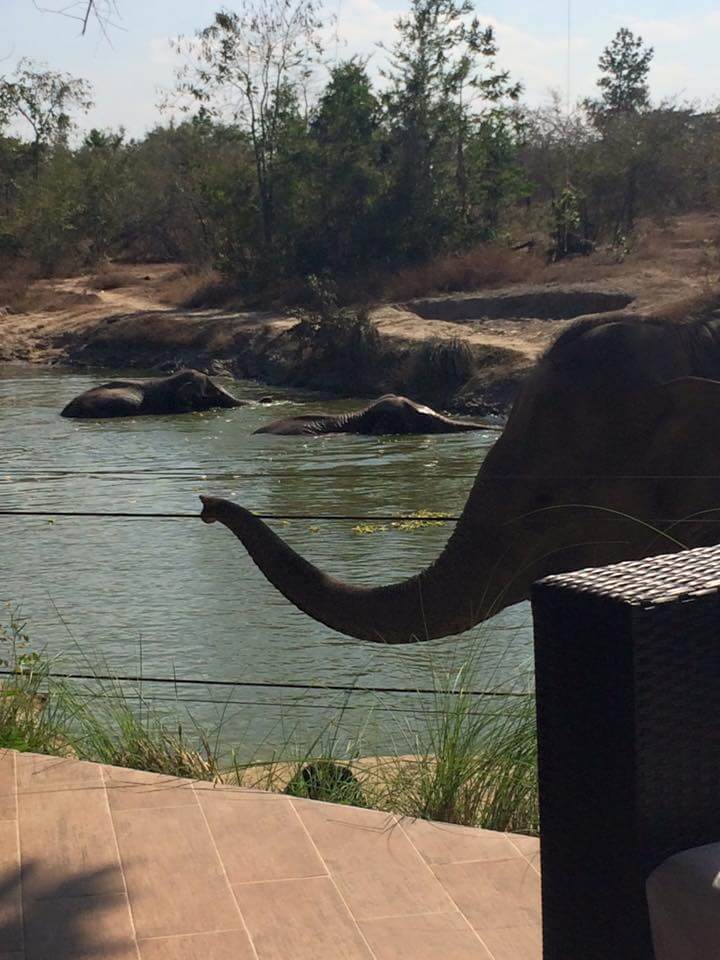 At the time of our visit there was a  huge amount of work still going on. All completed from donations by tourists and locals. 
I fully recommend  WFFT – Thailand, if you're in this area  100 per cent pay it a visit.  This place needs all the support and promotion it can get.  I cannot say a bad word about the place.
For further information on the sanctuary and current prices, click on the link below –
https://www.wfft.org/full-day-experience/
Top tips-
1. Check out how busy it will be. Less people means more time and 1:1 with the volunteers for you.
2. Bring  plenty of sun cream and mosquito spray, and water.
3. Wear hats and loose clothing, it gets very warm.
For more information on Thailand, click here.