Sometimes flights to London from Belfast aren't exactly what you'd call cheap.  However, when we came across an absolute bargain at just over £30, for the three of us return, we booked them right away.
We knew what we wanted to do on the Saturday, but had a full day on the Friday to fill.  It's not that we don't love London, we really do. However, we couldn't pass up the opportunity to visit the beautiful Cambridge on a day trip…
History
Cambridge may be famous for being a University City. However, that's not all it has to offer. It's full of history and there is just so much to see and do .
While researching our visit, we found this website very useful –
Where Is It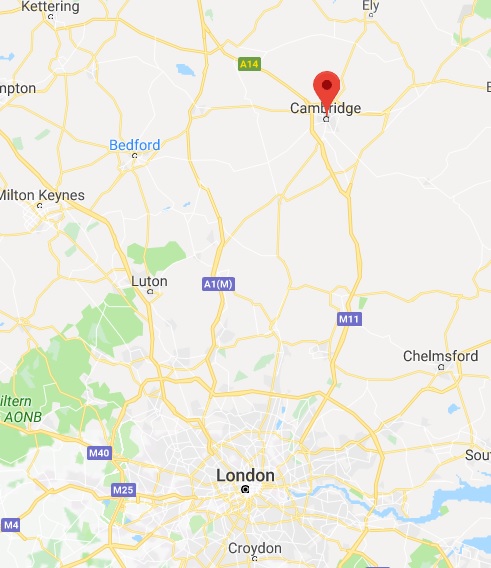 Cambridge is located around 60 miles, North East of London City.
How To Get To Cambridge on a Day trip
For this trip, we stayed at the Hampton by Hilton at Stansted airport, so it was a short 40 minute direct train journey. I'd say travelling from Central London, a train journey would be between 60-90 minutes depending on the time of the day.
What To See and Do
Church of St MarY's
The best view of the Cambridge skyline can be viewed from the top of the tower at the Church of St Mary.
This was one of our must do on our list, so as soon as it opened we paid our £4 per adult and made the very steep and narrow climb to the top of the tower.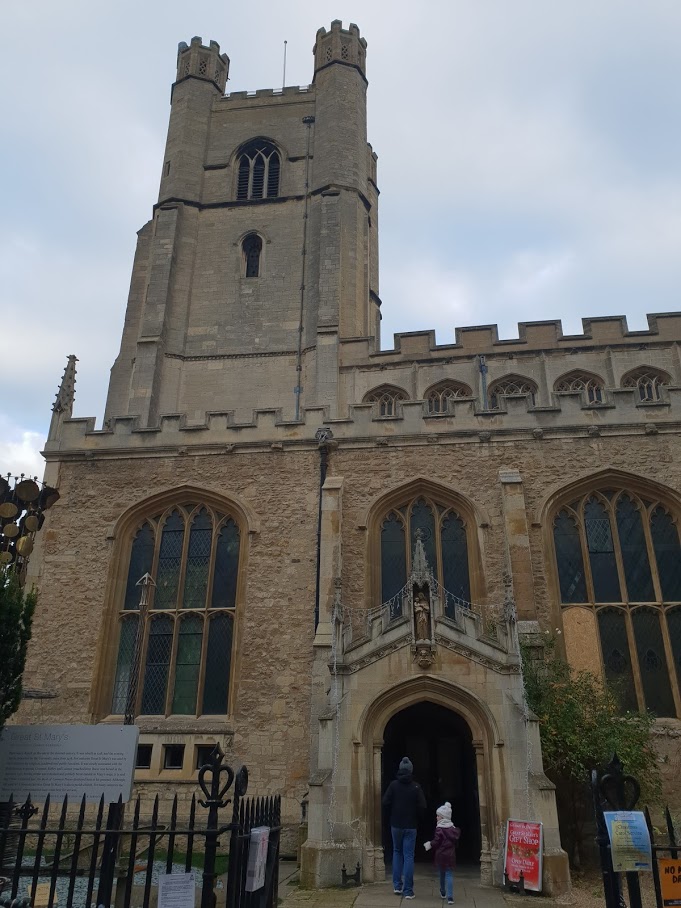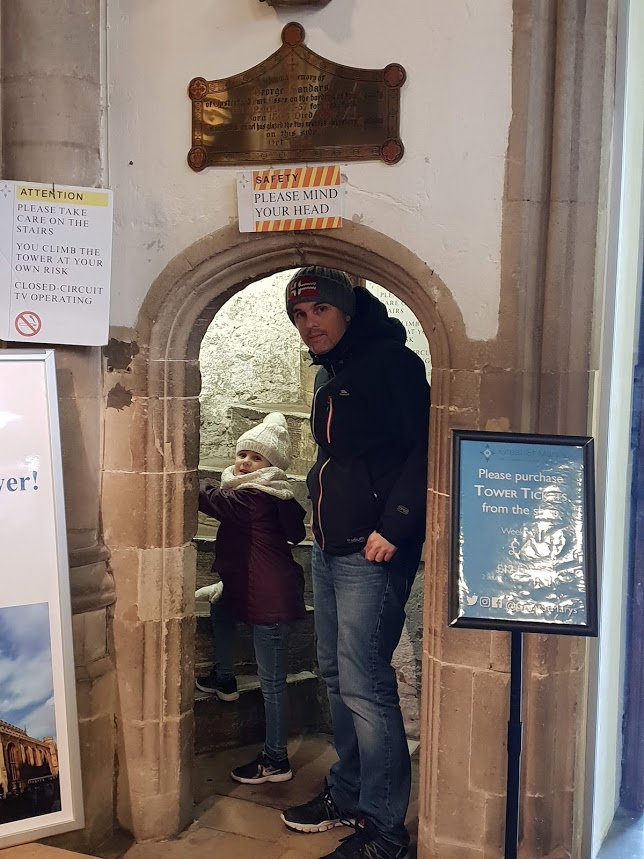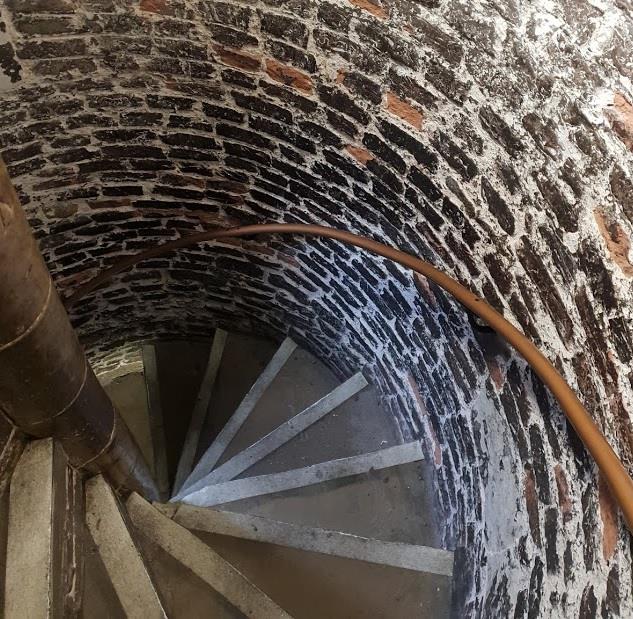 The tower climb was hard work! Although, Megan managed to make it up the 123 steps no bother, and no complaining!
The climb was worthwhile as the view was brilliant at the top.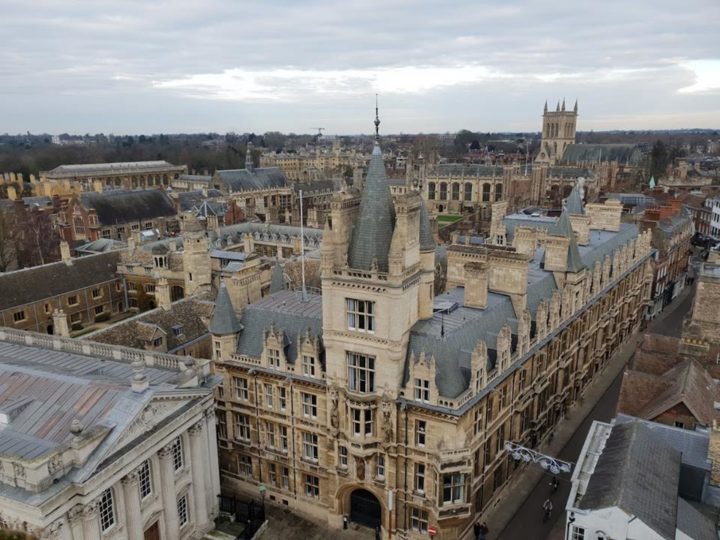 More information on St Mary's Church can be found here.
Cambridge Market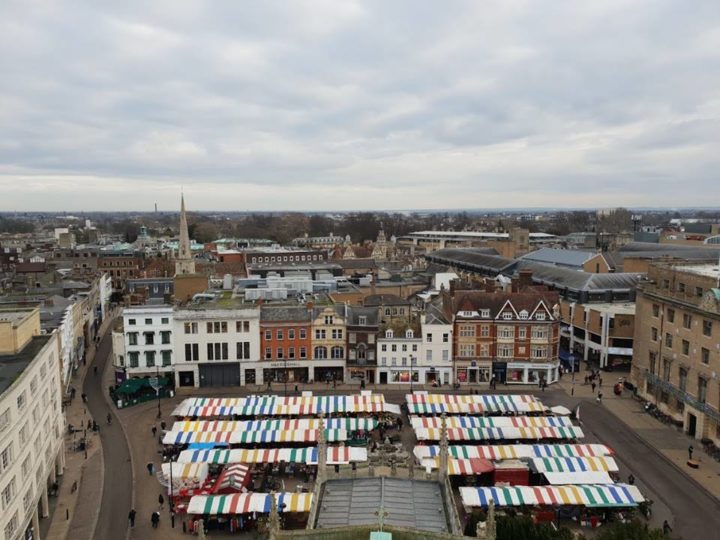 While waiting for the church of St Mary to open, we had a wee dander around the lovely Cambridge Market. The market contained a variety of stalls from fruit & veg to foreign foods, and arts and crafts.
If you're planning a visit, go hungry – you will not be disappointed!
Kings College Chapel
This one we debated whether we should just wander the grounds, or view inside the chapel.  We decided we've come to Cambridge on a day trip we might as well do it.
We paid £9 per adult and Megan was free as she is under 12, otherwise it would have been £6. (If you add gift aid at no extra cost, your ticket will be valid for re-entry for 12 months). Inside the chapel was stunning, and well worth the visit.  There were rooms off the main hall, providing information on the history of the chapel though the ages, beginning with Henry VI who built the Chapel, which took over a decade to complete.
Megan really enjoyed seeing the great organ, and all the beautiful stained glass windows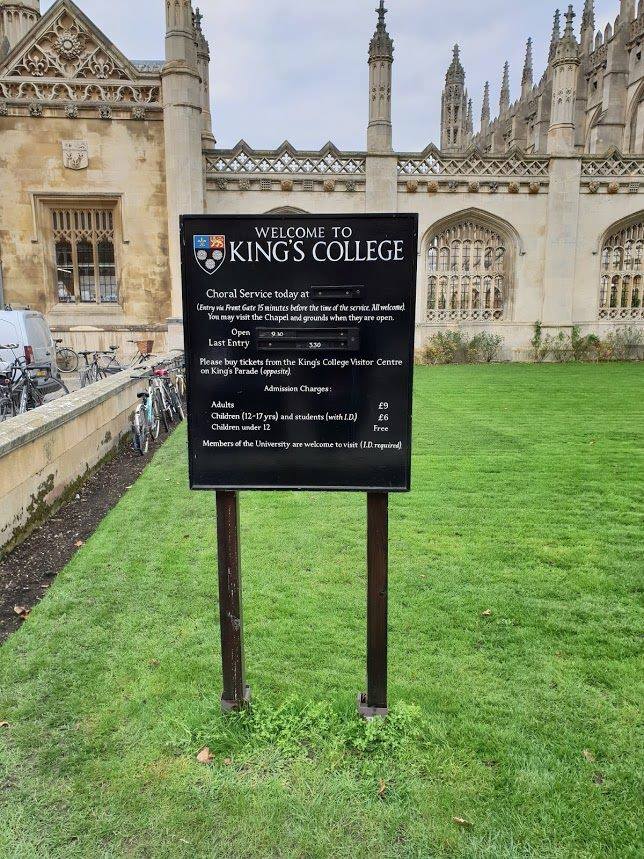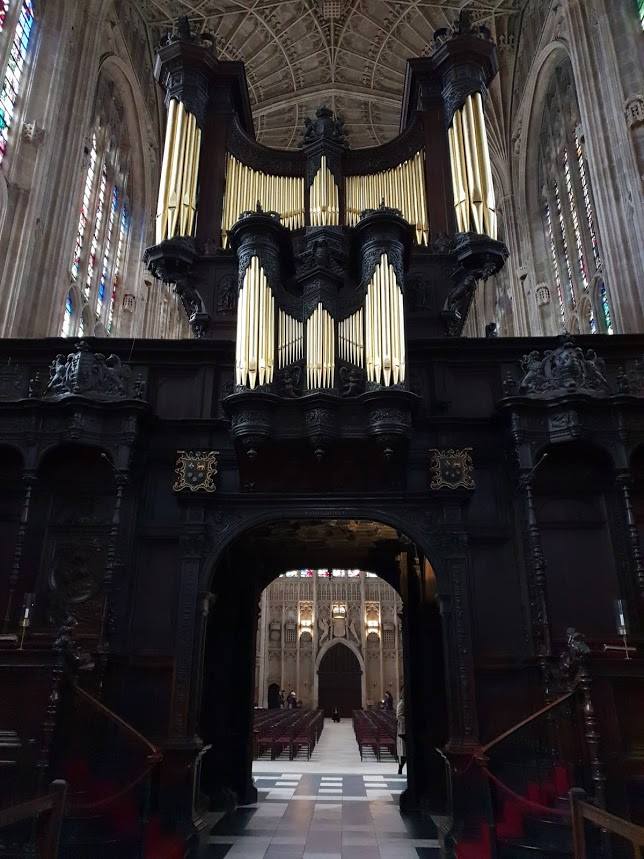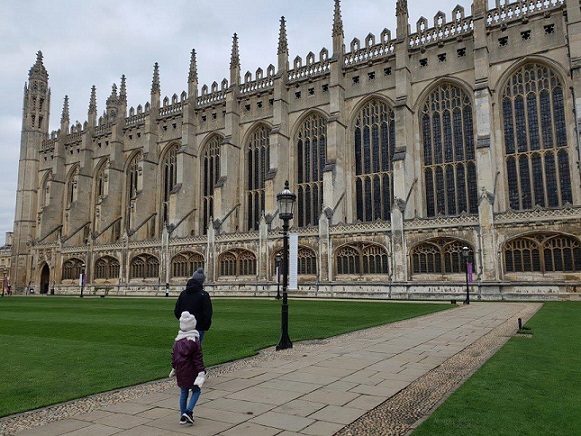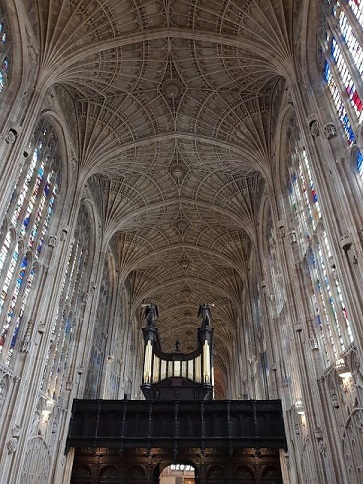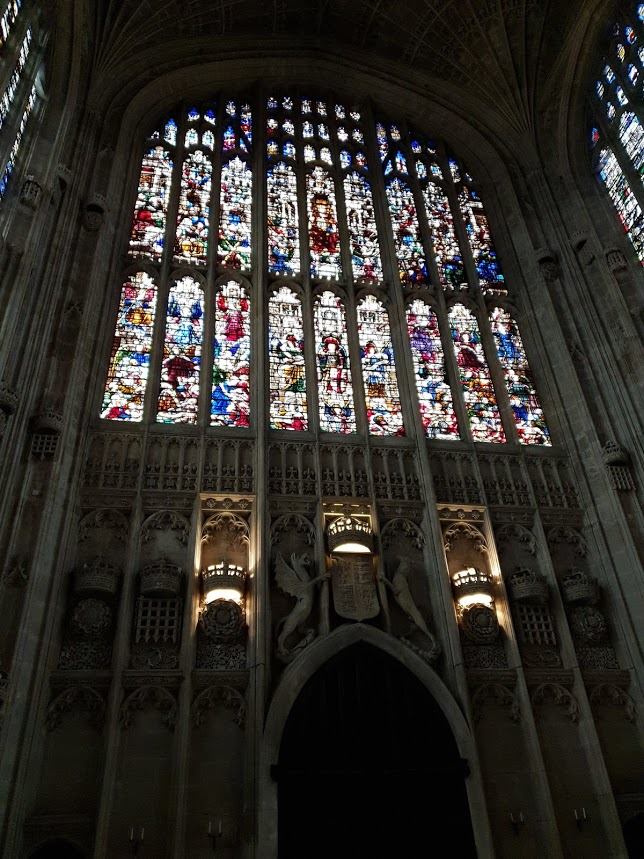 More information on the chapel can be found here.
Punt On The River Cam
Top of our to do list for Cambridge, was a punt on the river Cam. After a bit of research and contact with the companies who work on the river, Scudamore Punting came out on top. They have two punting stations, one at Mill Lane and one at Quay side. We picked Mill Lane, but it really doesn't matter the tour follows the same route, just in opposite directions.
We purchased our tickets online (around £44 for 2 adults, and 1 child), on the day of the visit, and saved a few pounds.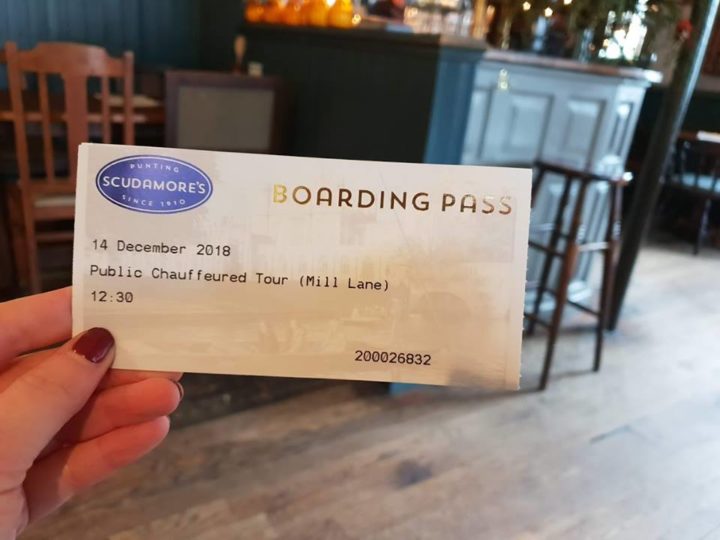 There was some time before our tour left, so we were able to nip into the little pub on the corner for some take away hot chocolate, and mulled wine.
It was freezing on the day of our visit, but luckily we were wrapped up warm, and we were provided with blankets, hot water bottles and umbrellas when we boarded.
While on the river punt, as well as being provided with very detailed and interesting facts about the river, and the buildings that line it, we also spotted the famous bridge of sighs and the mathematical bridge.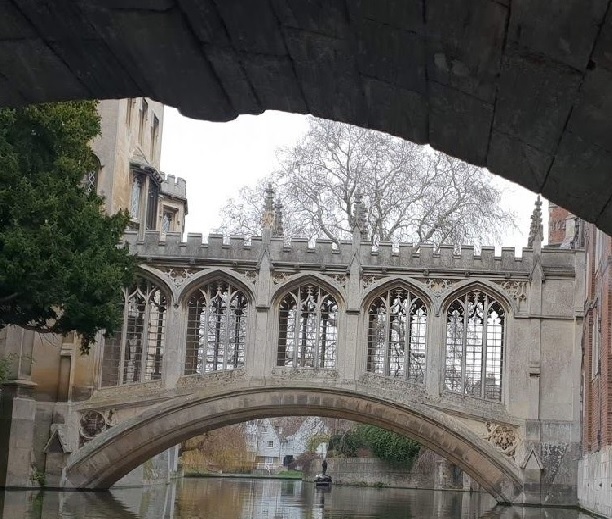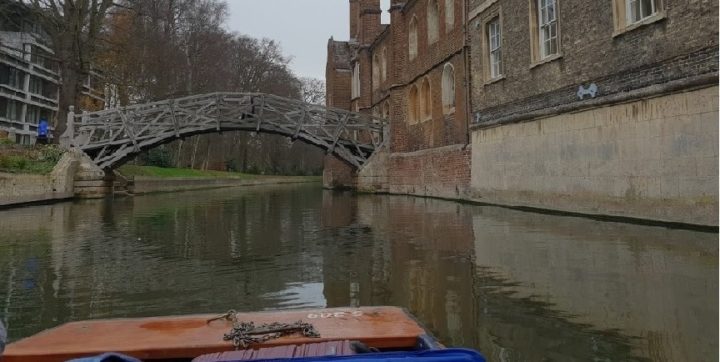 I couldn't recommend this tour enough. I'd even go as far to say, if you've ever been to Cambridge and not gone punting –you haven't really even been to Cambridge!!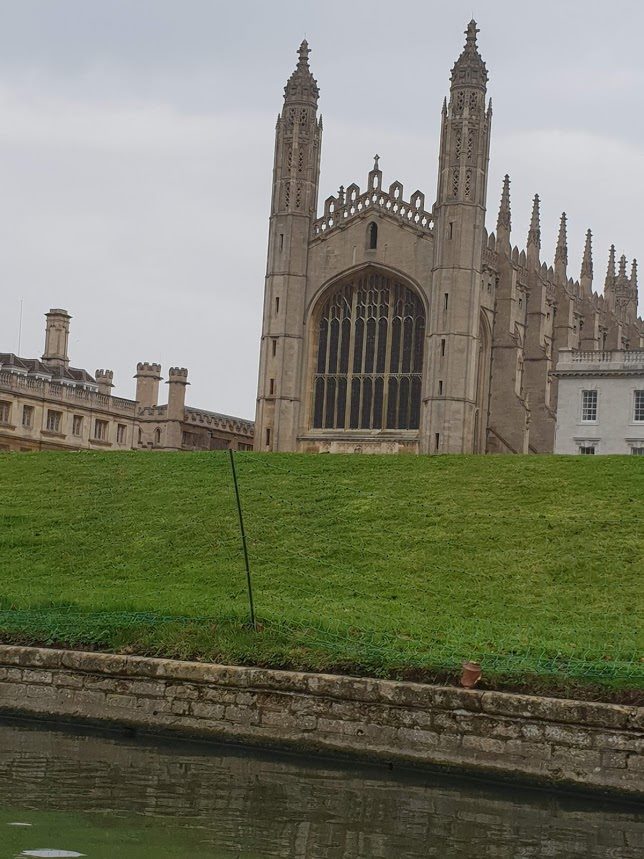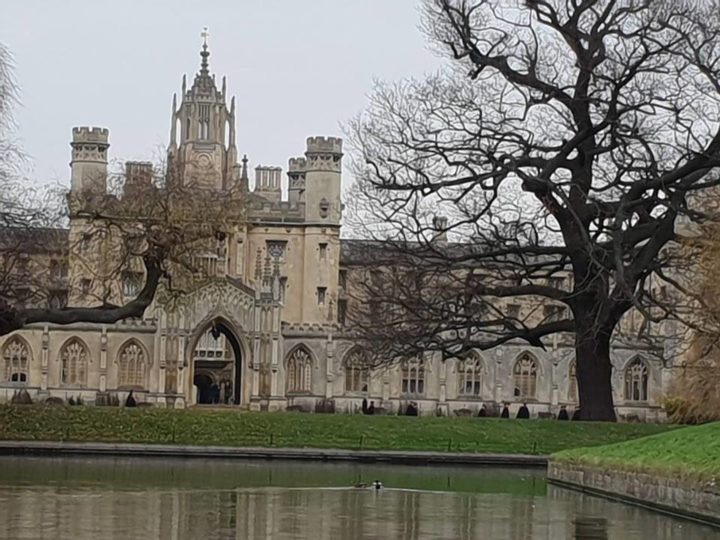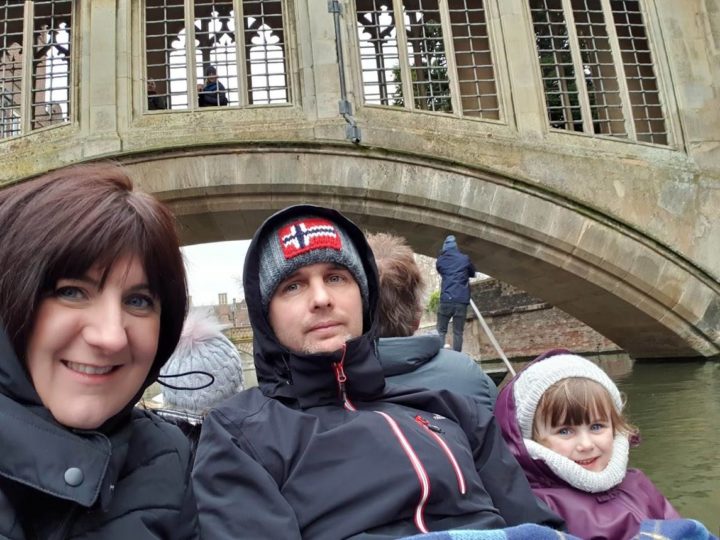 Round Church
By the time we got to the round church it was getting late, and we already squeezed in so much.
However, a very helpful big issue seller Lee Welham, gave us the best 5 minute commentary on the history of the church from the outside that anyone could ask for!
More information on the round church can be found here.
Final Words from Megan…
"I loved the boat, because it was so lovely and warm and you got to see everywhere!"
Top Tips
There are so many colleges , it would probably be impossible to view them all in one day.  Also not all are open every day to the public, so if you have your eye on one, check out their website to make sure it's open to avoid disappointment.
Check out the buses, the walk to and from the train station puts on extra miles that aren't really needed.

 

Have a pint in the Eagle a very historical bar, where the discovery of DNA was announced. More information can be found 

here.

Do the punting tour first – the tour guide had lots of recommendations for places to see, and little hidden facts and details to look out for, that we wished we had have known at the start of the day.
Thanks for taking the time to read about our visit to Cambridge.
The Lewis Family.
For further posts on our time in England, click here.