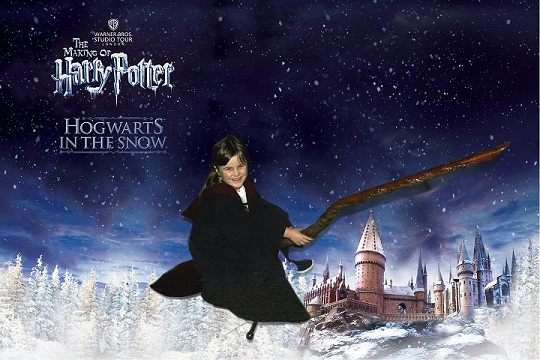 Our recent trip to London wouldn't have been complete without a trip to Warner Bros Studio Tour – The Making of Harry Potter.
We decided to keep the visit to Hogwarts a surprise for Megan.  She is a big Harry Potter fan and we wanted to see how far we could get before she guessed where we were going!
Where Is It

Warner Bros Studio is located 20 miles North East of Central London, just outside of Watford.
How To Get There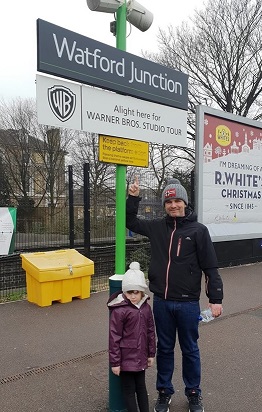 There are multiple ways to get there.  As daddy doesn't like to drive when we are away, we opted for a train from London Euston to Watford Junction and then took the shuttle bus from outside the station. Total journey time from Euston was about 40 minutes.
As you can see, at this point she still hadn't caught on to our plans and looks pretty unamused at mummy taking pictures of train stops!!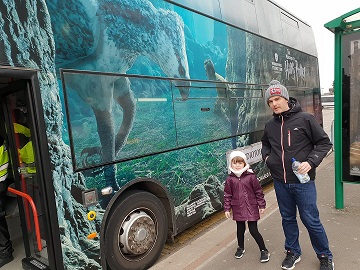 Make sure you have you proof of tour tickets for the bus as they won't allow you on without it. The cost for the bus is £2.50 per person, children included. Which I think is a little greedy of Warner bros to be honest.  The cost of the tickets for the Studio Tour should include the shuttle bus.
You need cash for the bus, they won't accept card. More information on getting there can be found here.
When Megan seen this bus, she thought it was just advertising a new movie and was delighted when daddy agreed to let her take a ride on it.
It was only after we boarded the bus, when they started to play to pre-recorded welcome video that she found out where we were off to… and the excitement kicked in.
Opening Hours & Cost
More information on opening hours can be found here.
We arrived about 1 pm and left around 4:30 pm, but we could have stayed for as long as we wanted, until closing.
There is a multitude of different price packages so it's best to use the above link to work out what bests suits yourself.  We paid £43 per adult and £35 for Megan who is five.
What To See And Do
On Arrival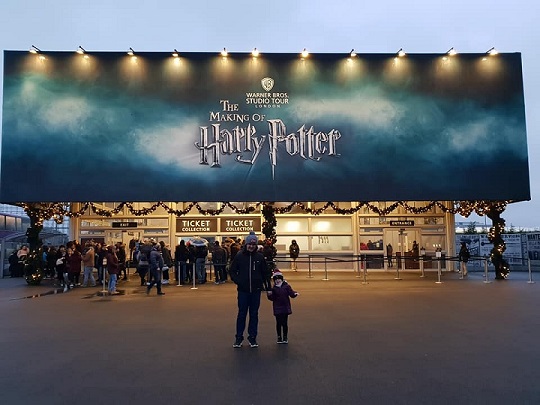 After collecting our tickets, the excitement escalated as we entered the building and could hear the magical Harry Potter theme tune. Once through the security checks and after making the winding walk to the main entry, we had to wait in line for a further queue to the cinema. However, the queue moves quickly and there is plenty to look out for and keep you occupied.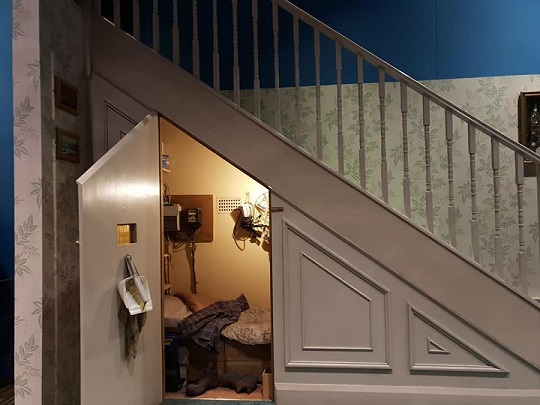 Megan even got the opportunity to measure herself up against her hero, after all at five years of age it's all about being tall. (Note the tippy toes).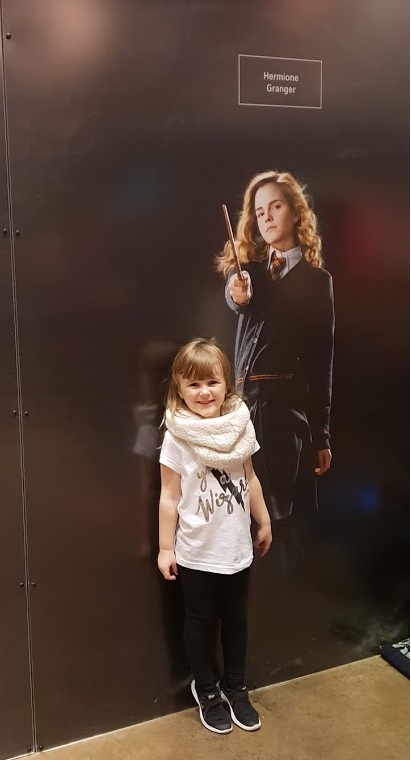 The Great Hall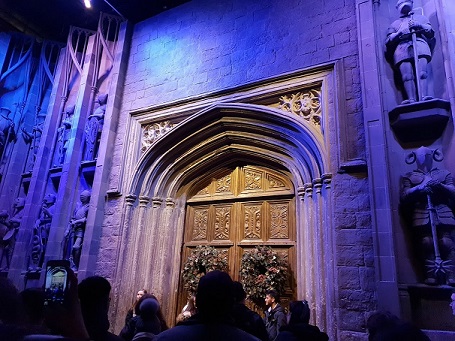 We were in awe when the screen went up after the cinema and revealed the doors to the Great Hall.  Those whose birthday it was, were allowed to push open the doors into the Great Hall.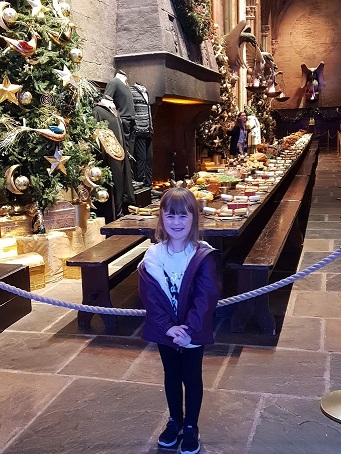 As our visit was over the Christmas period the hall was decorated accordingly.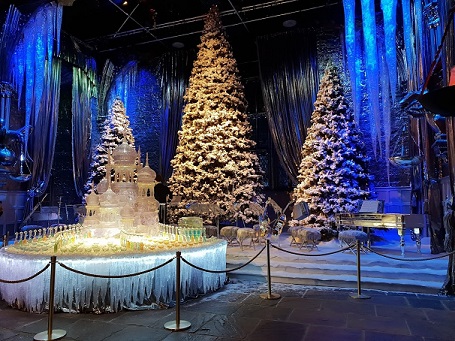 We had plenty of time to admire what was the actual scene from the movies, with a guide providing information, before moving on to the self guided part of the tour.
The Main Hall
This section of the tour contains so many costumes, sets and props I wouldn't be able to list them all or show all the photographs. The tour follows the order of the movies, starting of course with the philosophers stone.
What's really hard to appreciate when you're walking around, is the fact that what you see is all the original props, sets and clothes.  They have done an absolutely amazing job of keeping it fun, but factual, to suit kids and die hard fans alike.
There are some real wow moments as you go and so much to take in and see.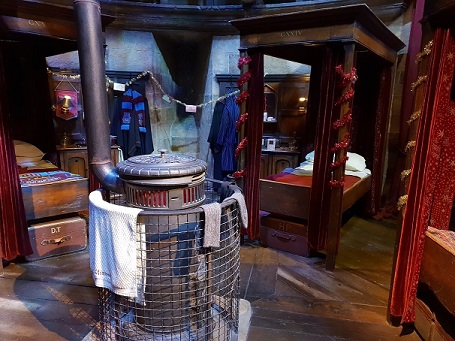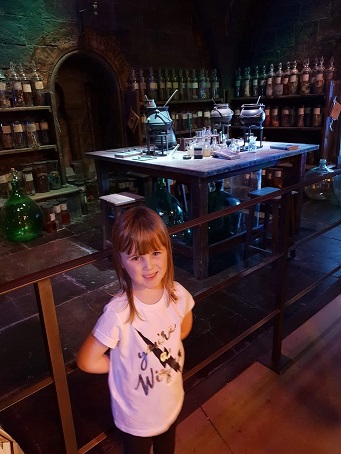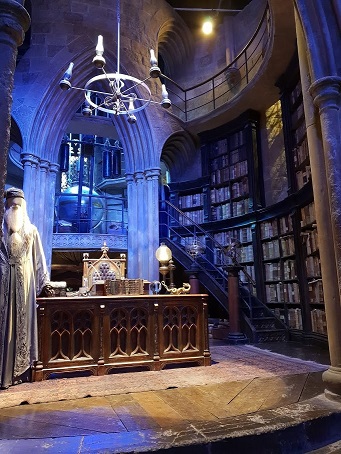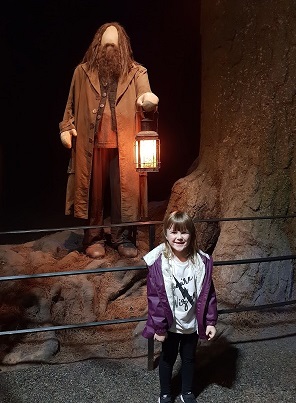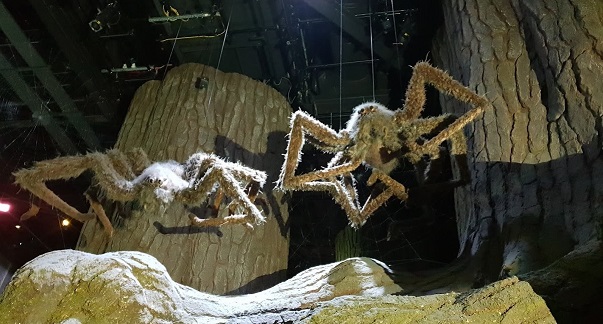 While reading the many information stands in this section, it wasn't hard for us to see how much effort and thought went into making the Harry Potter movies.
Have Some Magical Fun
Dotted all around the tour are special effect areas and interactive areas.  A favourite of Megan's was using her magical powers to lift the broomstick.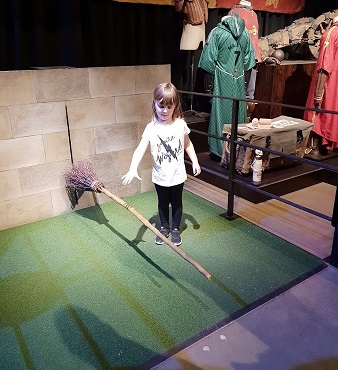 Megan also had the opportunity to dress in the cloak of her favourite house, Griffindor and ride a broomstick through central London. Sadly this was one of the two parts of the tour where no cameras were allowed. However, we were able to purchase a photo afterwards.
Hogwarts Express
Megan got the opportunity to push her luggage through the wall to platform 9  3/4.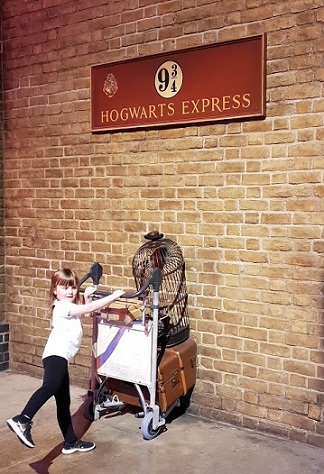 Next it was time to board the Hogwarts Express, where each cabin is decorated as it was in movies.
Here there is also a chance to ride the Hogwarts Express and test your acting skills using the green screen.  If you're really flush, you can also purchase the USB drive to watch again at home and show your friends.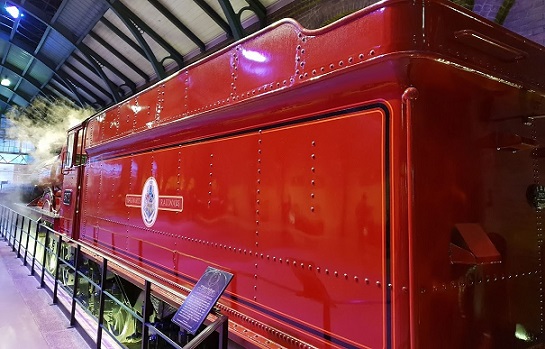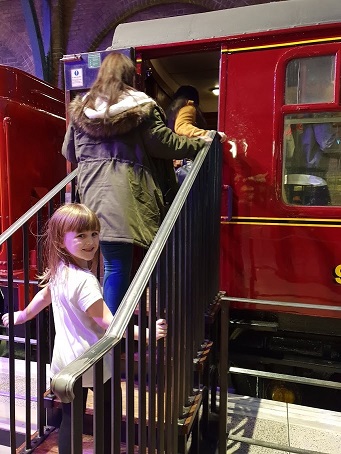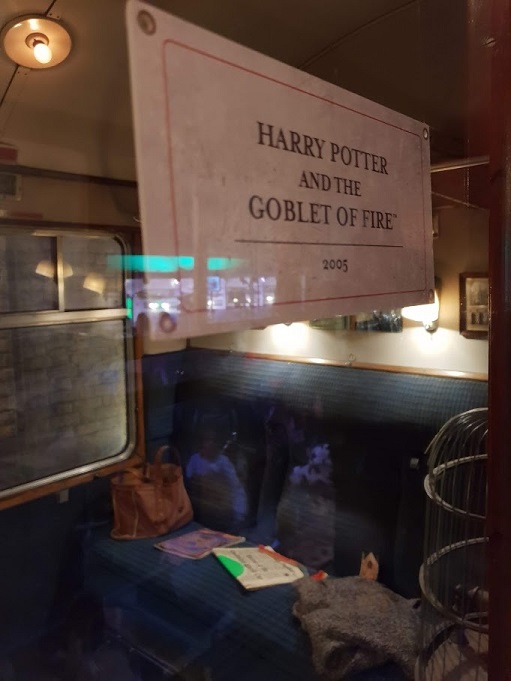 Have A Butter Beer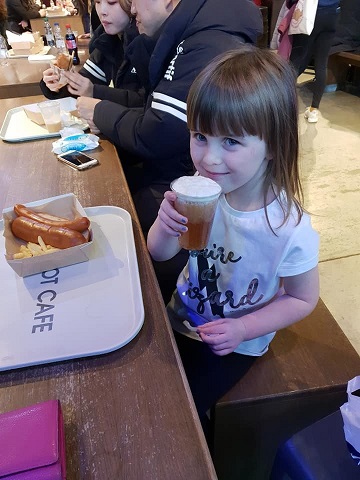 Before anyone goes into mild panic like Granny did when she seen this photo. Butter beer is a drink from the movies and I would describe as tasting like butterscotch with a mashmallow topping, perhaps go for a glass rather than a pint, unless you know you will love it.
Besides butter beer the canteen also sells hot food and drinks.  You can also bring a packed lunch and rest your legs here before moving on to the next part of the tour.
PRivet Drive and Knight Bus
If you're ever stranded in London and happen to be a wizard the knight bus will come to your rescue.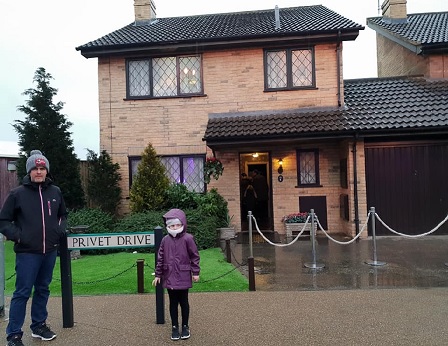 Here we got the chance to visit Harry's home, a real magical experience. The living room is set up with the letters that Harry received to attend Hogwarts flapping around like in the movie.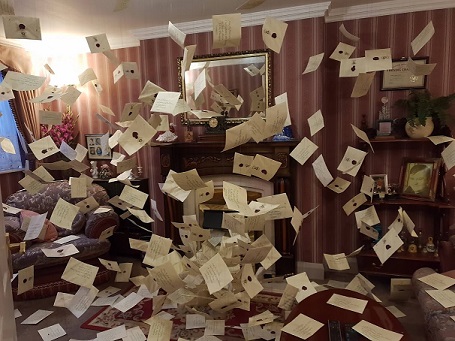 Diagon Alley
Megan loved this section, for her it was as if she was transported into the movie. Unfortunately for us muggles we had to walk there, rather then using flue powder.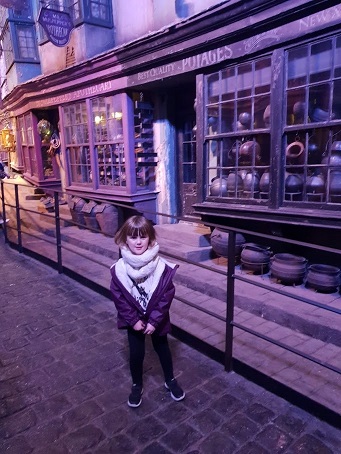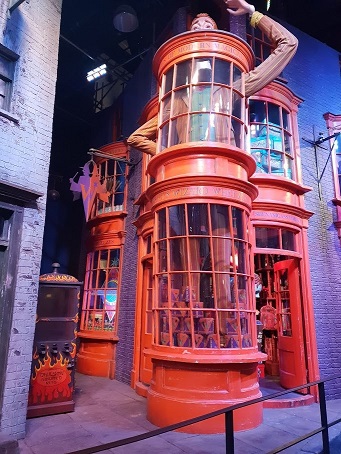 Large Scale Hogwarts
This was really our WOW moment, the age old saying "Keep the best for last" certainly rang true here!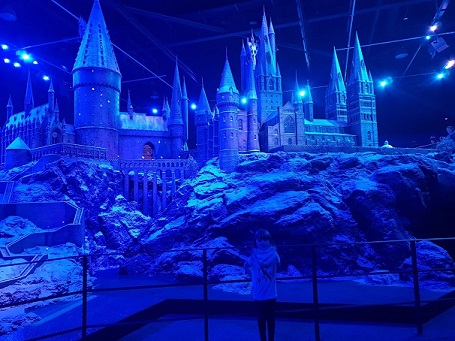 The final part of the tour was the large scale Hogwarts Castle model. We were able to see how, with the use of magic they were able to create aerial shots for the move using this very model.
Exit Through The Gift Shop!
Expensive is the word I would use to describe it. The gift shop has everything a Harry Potter fan could ever need. Set a budget and hope for the best!
Would We Recommend
Yes. Megan is the Harry Potter fan in our house and she had an absolute ball. Mummy has watched the movies and knew what was going on and enjoyed herself. Daddy has never watched a Harry Potter movie, however knew enough to enjoy himself as well. A great experience for the whole family!
Top Tips
 At the entry there was a kiosk hiring headphones for the tour and the queue was pretty long. However, after the Great Hall there is another kiosk hiring them out with no queue!
The earlier time slot you can get the better, the studio is open all day and you can spend as much time as you like inside.
Bring your own food/snacks/drinks, the only warning is you're not allowed to eat or drink until you're at the canteen area.
Bring ID when collecting tickets, we near had a moment on the bus. Thankfully a bank card does the job.
Thanks for reading
The Lewis family.
For further posts on our time in England, click here.