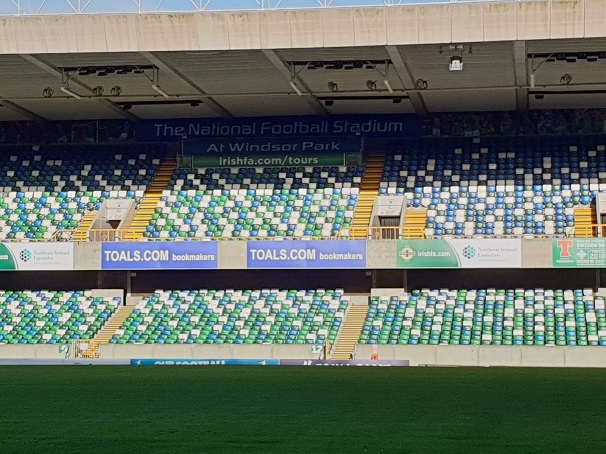 When we aren't off travelling, we like to find things to do locally and be tourists at home. So what better way for us Northern Ireland fans to spend our Sunday, than with a trip to the National Football Stadium for a tour.
Where Is It
The stadium is located in South Belfast at the bottom of Donegall Avenue.
How To Get There
The closest train station would be Adelaide, which you can get to on the Portadown line. Adelaide is about a 10 minute walk away, or if you fancy a longer walk the city centre is about two miles away. You can also drive, on non match days there is ample parking right outside for the tours.
Opening Hours & Cost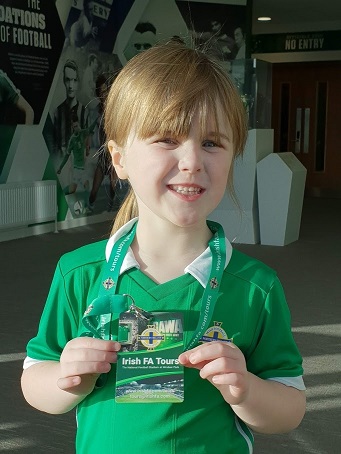 For opening hours and prices, please check here.
Our tour cost us £8.50 for Nicola. Myself and Megan were free, as we are campaign card holders. Otherwise it would have been £8.50 for myself and £6.50 for Megan.
What To See and Do
We are the champions
Our tour kicked off at 11 am, after a welcome to the stadium by our guide Lee.  The first thing we noticed proudly displayed as we entered, was the crowning glory for all Northern Ireland fans, the British Home Championship trophy. Northern Ireland won the tournament on 3 occasions, the last being 1984.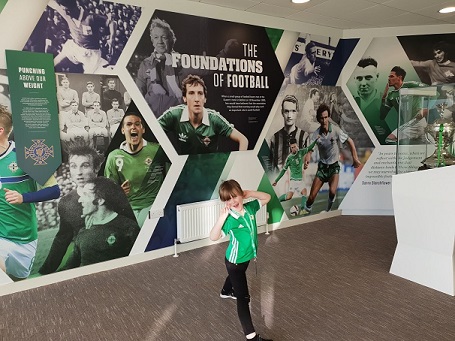 Education And Heritage Museum
For the first half of the tour, we went to the Education and Heritage museum which has lots of interesting exhibits including; the history of the game, how the penalty was invented by a man from Northern Ireland, and a history of our kits.  Here we were also shown a video , highlighting the footballing successes of our small country through the years. (It gets awfully dusty in there!)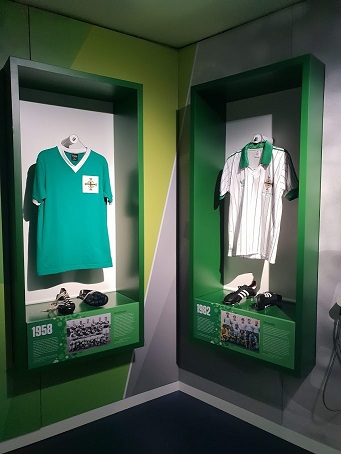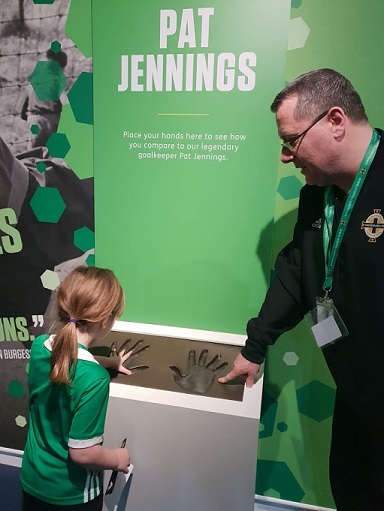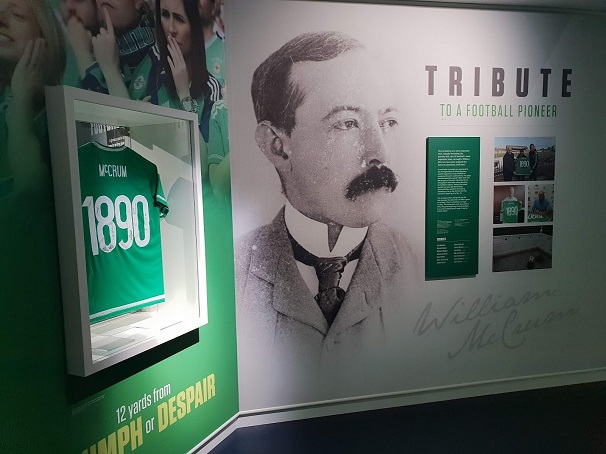 My favourite exhibit was the model showing the stadium over the years.  My first visit to Windsor Park was in 1993 and it has changed so much since then.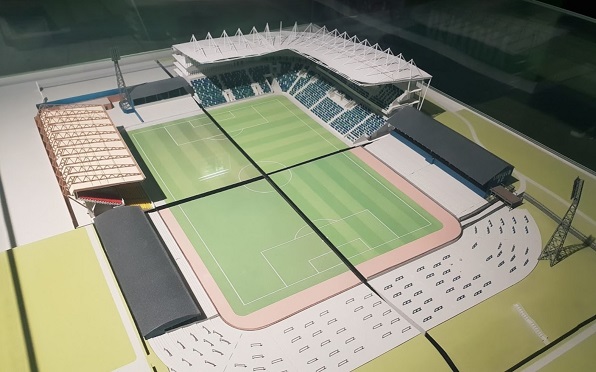 Megan's favourite part was the penalty shoot out. Top tip  – Move the ball a bit closer for younger kids as the ball might not get picked up if kicked from the actual spot marked on the floor.  Also  – go here last, after you've had a look about, as we had to force Megan away from it.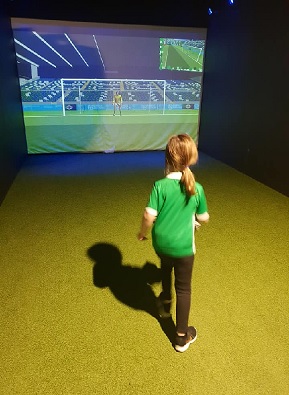 We had about an hour in the museum.  There was plenty to keep us entertained and we were free to roam around at our leisure.  Our very knowledgeable guide was always on hand if we had any questions and did an excellent job engaging Megan,  giving her some interesting facts and showing her the displays.
Viewing deck
After the education centre it was time to head outside for the stadium tour, this was the bit everyone was looking forward to. We made our way to the upper deck of the South Stand which has the best view in the stadium.This area is mainly for journalists and TV/Radio commentators and it gives a brilliant view of the action on the pitch.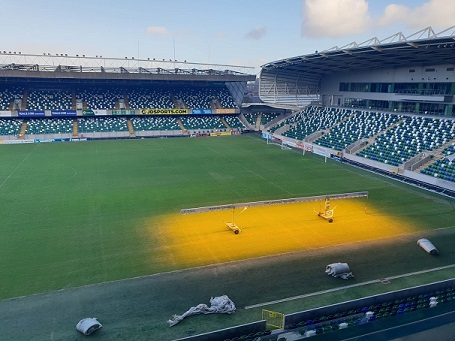 George Best Suite
Nicola got a feel for how the famous watch football in the George Best Suite, with its comfy seats and fully stocked bar. Sadly for her you can't buy a ticket for this area, it's invite only. Which is an invite we would happily accept, if anyone is reading!!!
In the suite Megan got the chance to tackle George Best.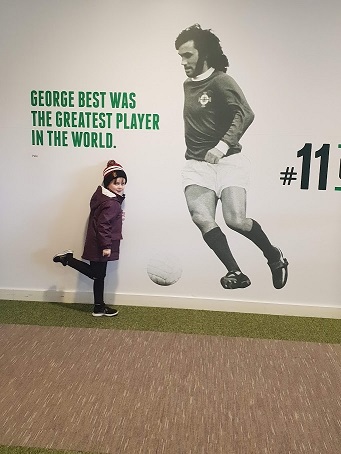 Tunnel / Dug Out / Pitch side
The opportunity to run down the tunnel, where players enter from on match night is a dream come true for any football fan.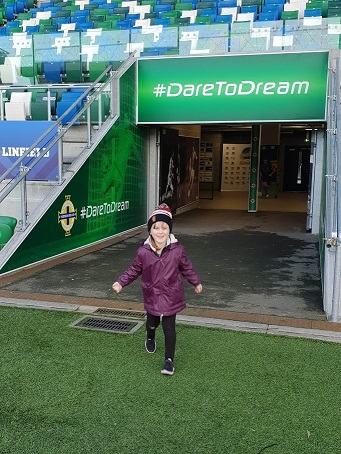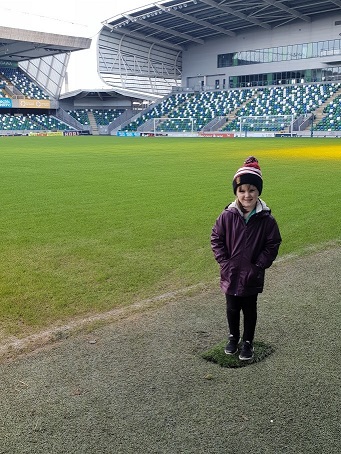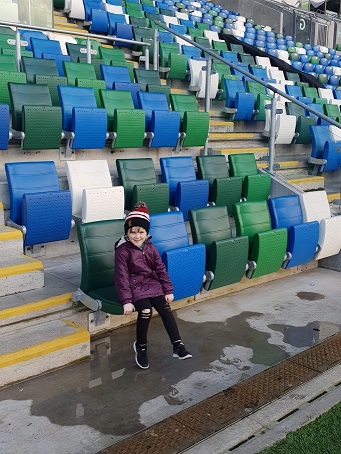 Megan even got the opportunity to sit on the manager Michael O'Neil seat. Although she probably sat in it for longer than he does on match nights!!!
Malcom Brodie Media Centre and Press Conference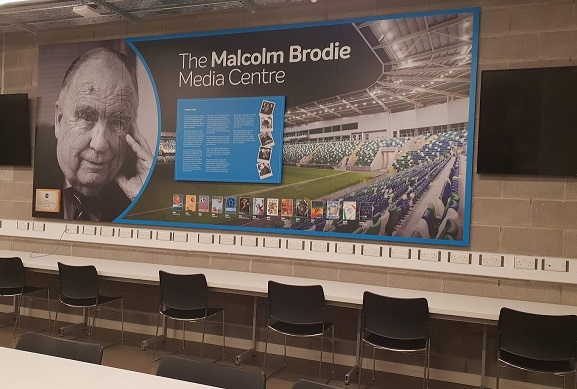 This is the area where the media gather before and after the games.  It is huge and the walls have pictures showing iconic moments in footballing history.  
Next up, Megan got to sit in her favourite footballer, Steven Davis' seat and was asked questions by the waiting press, aka her mummy and daddy.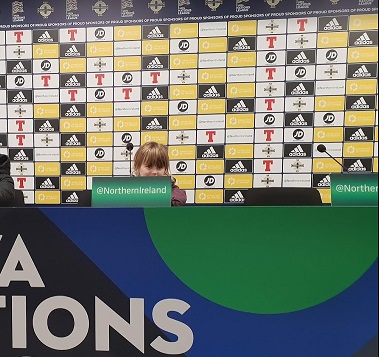 Changing Rooms
As we entered I could feel the hairs tingle on the back of my neck. For football fans like myself and Megan this was an exciting moment, seeing all the shirts lined up and imaging what it would be like sitting here on match night.  Our guide explained how everything in the build up has timings right to the minute and that if teams don't make the timing, they get fines.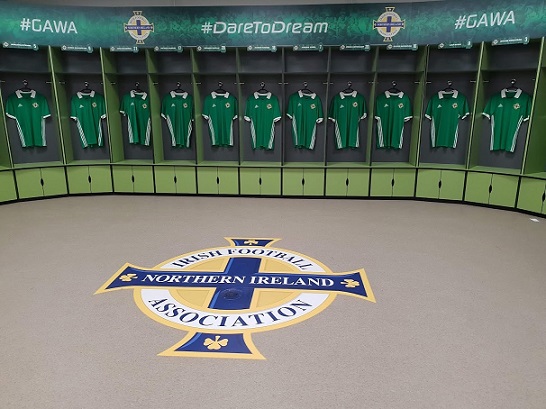 Megan had to get a picture with her favourite players shirt…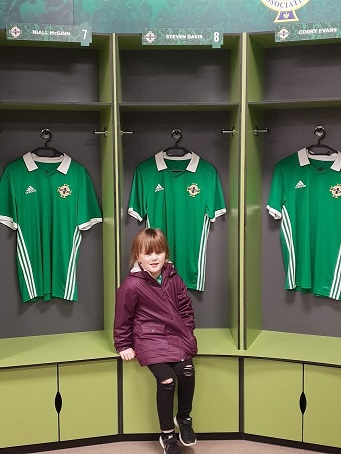 Mummy took the opportunity to get as close to Aaron Hughes as she probably ever will… (again!)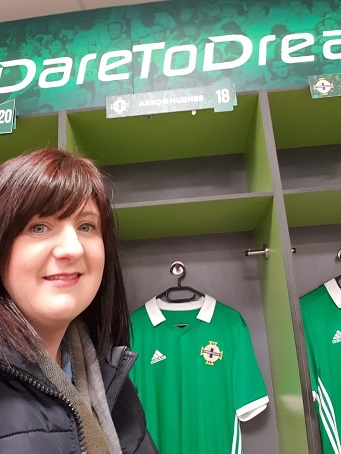 No rubber ducks in these baths, just ice!!!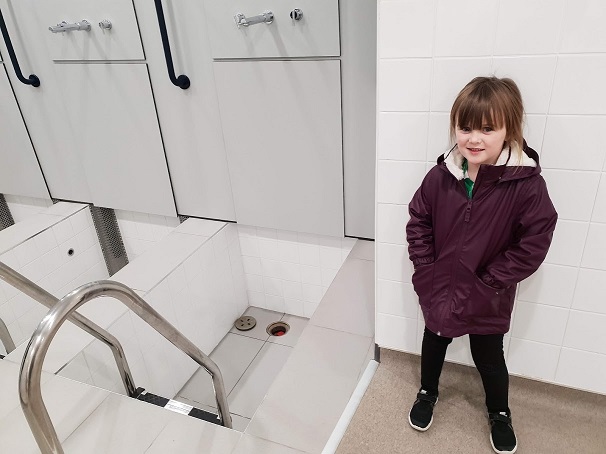 Would We Recommend
We recommend this tour to everyone, football fan or not. The tour takes around two hours, which honestly is two hours well spent. We learnt so much about what happens on match days behind the scenes, that we wouldn't have known from attending games.
Top Tips
Large sections of the tour are outside so bring clothing to suit all weathers.
Ask the guides questions, they know their stuff.
Bring money for the gift shop.
Enjoy yourself its a nice way to spend a couple of hours.
If reading enjoy reading about our days out in Northern Ireland. Check out our other blog post here.
Thanks
The Lewis Family.