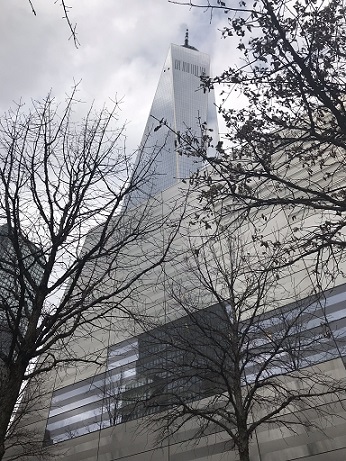 While in NYC we met up with some friends, our meeting point was the memorial for 9/11.  Between us we had three young children.  We originally wanted to visit the 9/11 museum, but staff advised it might not be ideal for such young kids. With this in mind we opted to visit the One World Observatory.
Where Is It

One World  Observatory is located at 285 Fulton Street. The entrance is on West Street.
Getting There
There is no parking available at One World Trade Centre, therefore I would recommend using public transport where possible. A full list of stations and lines can be found here.
History
On the 3rd November 2014 One World Trade Centre (One WTC) officially opened its doors. Daniel Libeskind was the architect whose plan won a competition to design the new tower. The completion of the 1776 foot building (height coincides with the year that the Declaration of Independence was signed) marked the end of a painful time in New York City's history following the terrorist attacks on 11th September 2001.
The observatory opened to the public on 29th May 2015.
Opening Hours and Cost
Opening hours vary throughout the year.  To check the opening times click here.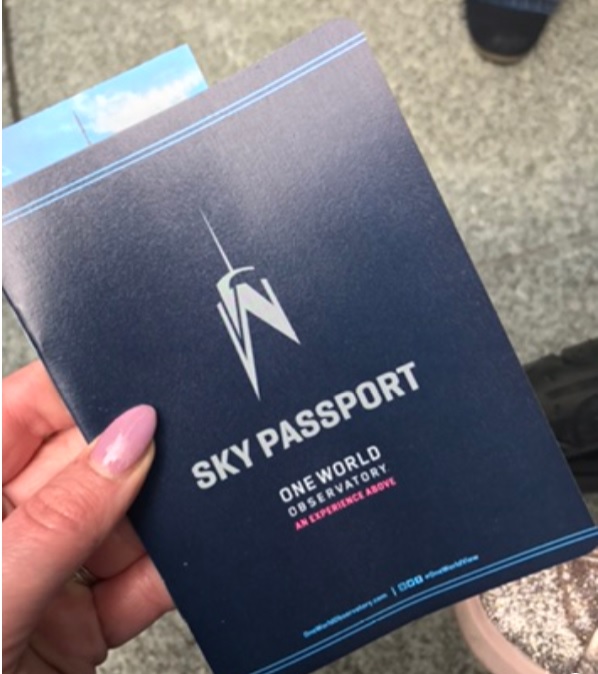 Ticket pricing was as follows for us:
$34 per adult
$32 per adult over 65
$28 per child 6-12
$0 per child under 5.
There are many different options, so have a look here for the best and most up to date options available.
What To See And Do
Sky Pod Elevators
The sky pod elevators whisked us up 102 floors in under 50 ear popping seconds.  During this time we followed the story of how New York has changed from forest into the concrete jungle of skyscrapers it is now.
See Forever Theatre
As we left the elevator a large screen displayed a video of the city's most iconic destinations.  As the video ends the screen disappears to show the NY skyline for the first time! This is a jaw dropping moment. Be sure to have your camera ready, we didn't!
The View
This was the main reason for our visit.  This level has floor to ceiling windows allowing views of the city in all directions for miles and miles.  This level also has a bar, where you can purchase beers and soft drinks.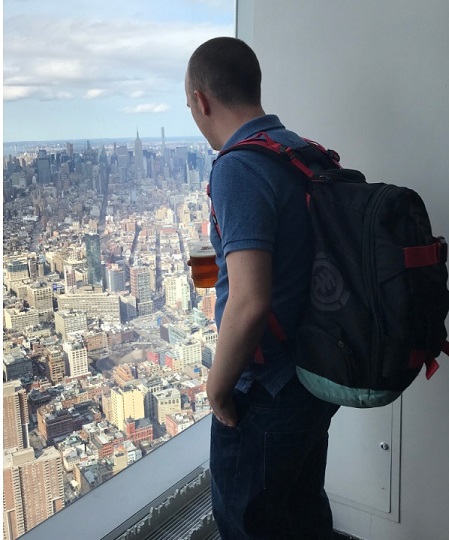 North view towards Central Park.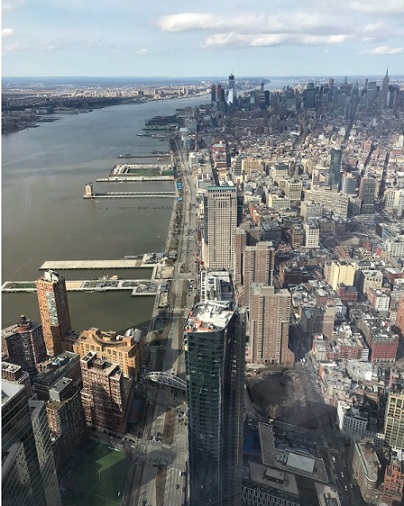 West View of the Hudson River.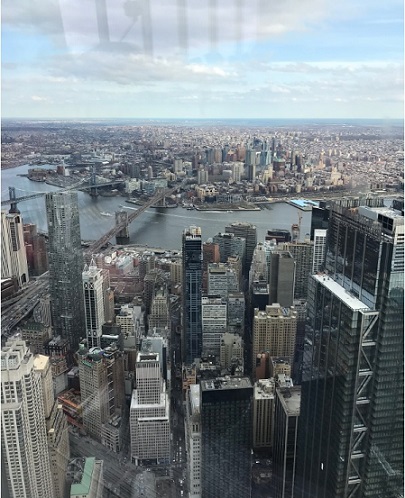 The East view looking out towards Brooklyn.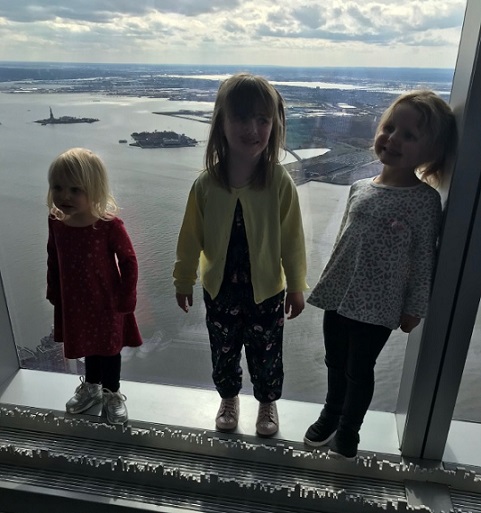 The South View which includes the four ladies… Lady Liberty, Lady Quinn, Lady Megan, and Lady Avery!
Sky Portal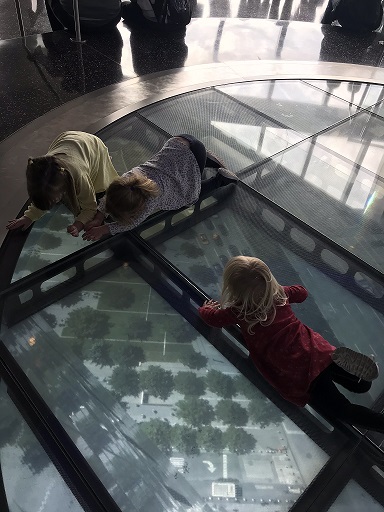 In the centre of the main viewing area is a Sky Portal.  It is a digital display of what is going on at ground level 100 floors below.  Megan and her friends had a ball playing on it (and jumping on it, to try and scare Daddy!).  They spent most of their time here, not really that interested in the views.
Would  We Recommend
Yes. I personally have now been up The Empire State building as well as One World. While The Empire State building is one of the most iconic buildings in the world, I felt One World was better set up and a far better experience.
Top Tips
If you know for certain the day you're going, book online.  This will save you waiting in line for a ticket.  We waited around 45 mins, and got extremely lucky getting onto the next tour!  However, there is also risk booking online. Fog and low cloud across Manhattan would mean you would see very little of the views which would be seriously disappointing.
Leave plenty of time to take in the views and have a drink.
Thanks for reading
The Lewis Family.
For further posts about our time in the USA click here.