While in Vienna for a Northern Ireland match, we had some free time to take in the sights of the city. We rose early on our first morning and headed straight to the beautiful Schönbrunn Palace.
Where Is It

Schönbrunn Palace is located about 6km South West of Central Vienna.
History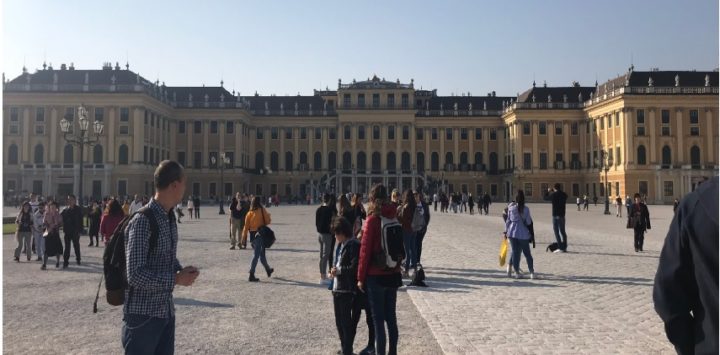 For those who like a bit of history, click here.
How To Get There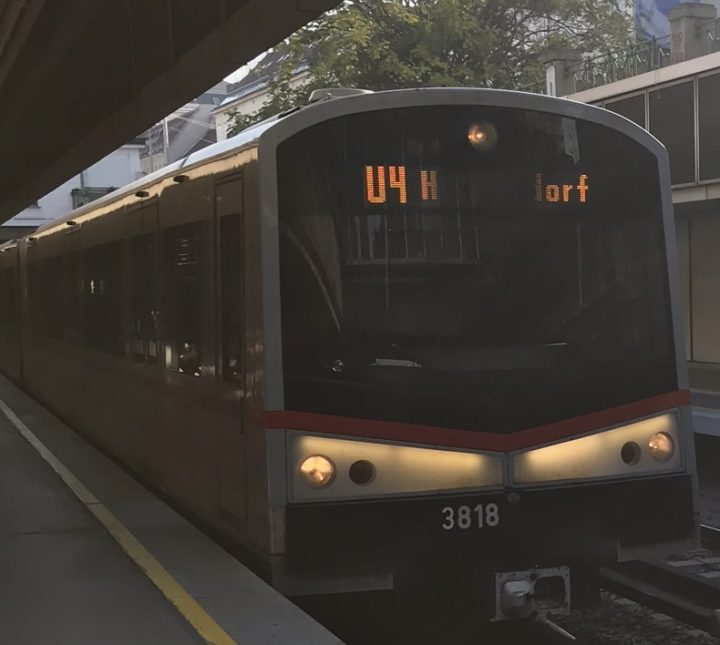 We had been told by quite a few people before we went that the Palace was one of the more difficult places to get to in Vienna.  However we found it really simple.  If you're coming from the city take the U4 line from any station in the direction of Hütteldorf and get off at Schönbrunn.  When you leave the station follow the signs or the flow of people, and in less than a 5 minute walk you're at the gates of Schönbrunn Palace.
More information can be found here.
What To See And Do
Der Schönbrunn Panorama Train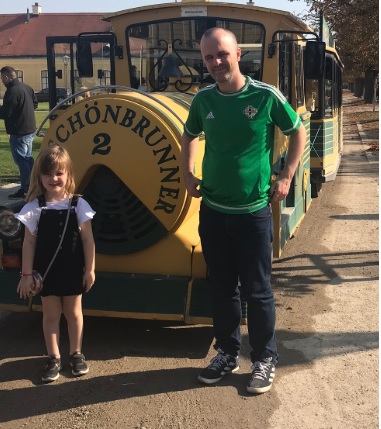 I'm not going to lie the place is huge, roughly the size of Monaco! We worried that with a 5 year old whose legs tend to 'fall off' after a few hundred metres and limited time we wouldn't get to see a fraction off it.  Luckily we spotted the hop on/off tourist train, meaning we enjoyed a nice leisurely ride around the vast majority off the grounds and gardens – and no legs were lost!
The train cost 8 euro for adults and 4 euro for kids for a full day pass. You'll need cash, as they don't take card.
More information including map can be found here.
Tirolergarten Tavern
Naturally we stopped off for a drink, as Megan was thirsty from all her ummm… sitting about, and it was after 11 am on holiday, so would have been rude not to!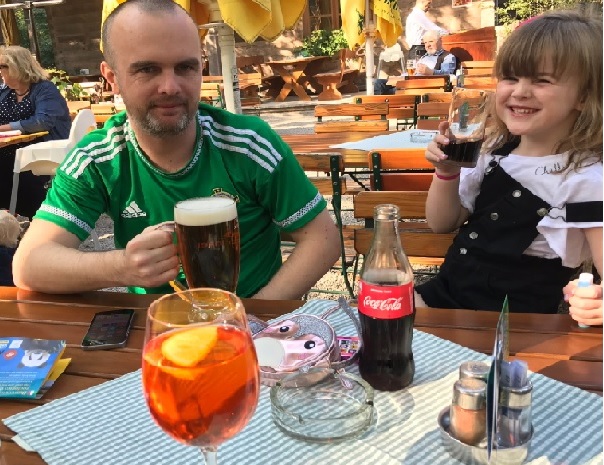 While the train does make a stop at Gloriette Hill, we enjoyed stretching our legs and took the short walk from the bar to the Gloriette.
The walk is beautiful, and somehow manages to remain very peaceful and relaxing regardless of the hundreds of tourists.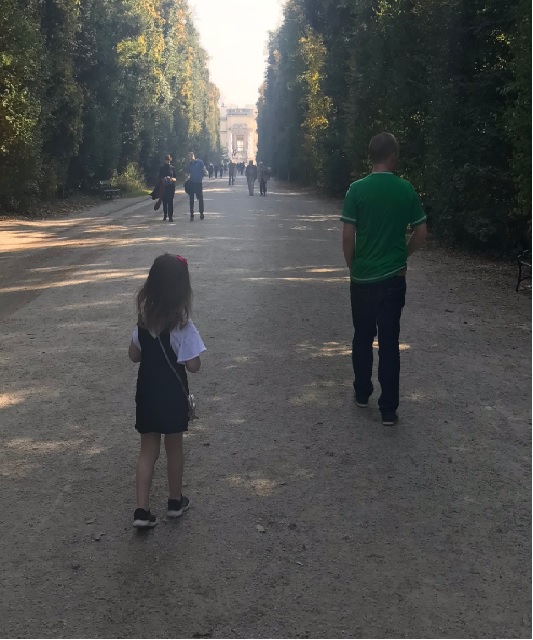 More information on the bar/restaurant can be found here. 
Gloriette Hill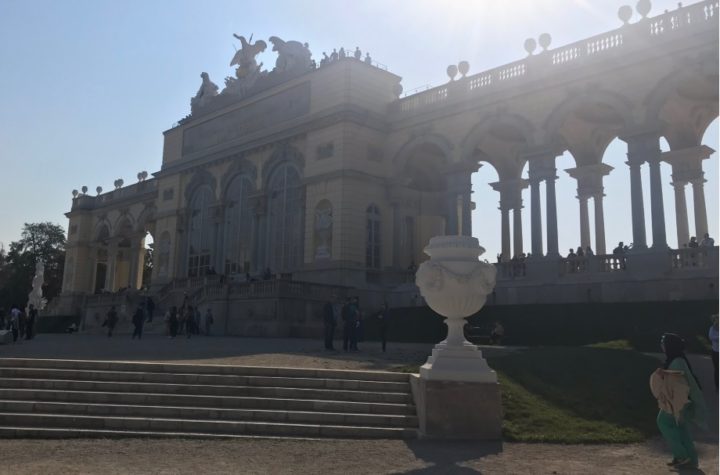 On arrival I wasn't aware of the reason for this building. However, a quick search on google informed me that, built in 1775 as a "temple of renown" the building served as both a focal point and a lookout point for the garden.  It was also used as a dining hall and festival hall as well as a breakfast room for emperor Franz Joseph I.
We could see why, the views are spectacular, imagine eating your breakfast and looking out onto that view!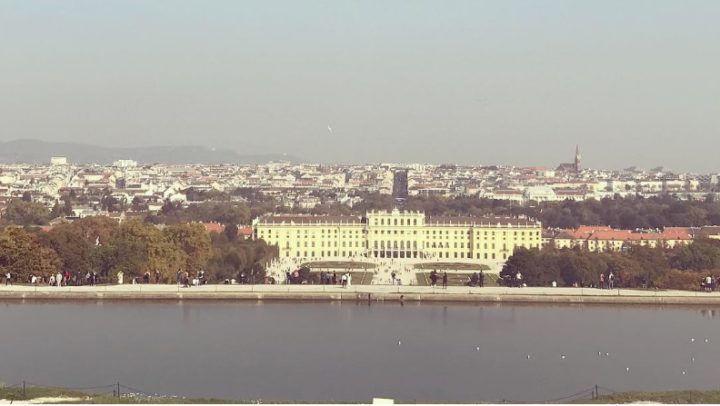 Obelisk Fountain
We made one final stop before the end of the route at the beautiful Obelisk fountain.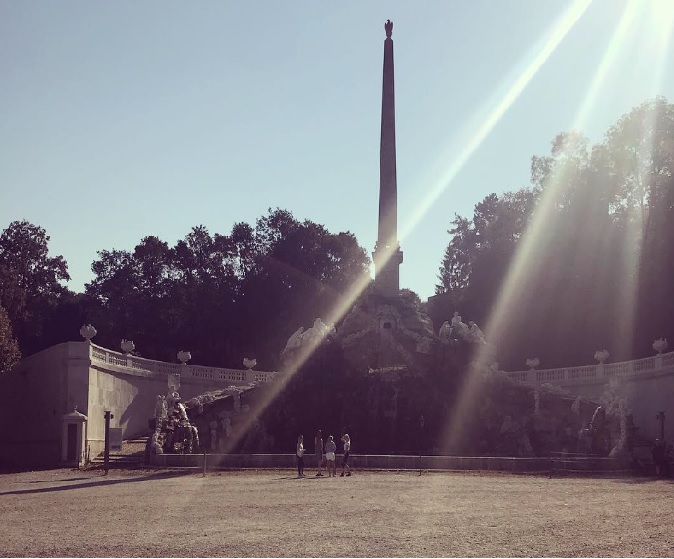 The picture here doesn't do it justice at all. So now you'll just have to go and see for yourself.
Other Sites To See Within The Grounds.
Sadly we only had  limited time at the Palace. We will 100% be back to visit Schönbrunn Palace and the following;
The Palace tour, inside the Palace looks absolutely stunning and deserves a visit,  short tours cost  14 euro and last around 45 minutes.
The children's museum, a wonderful way for children to learn about the life of imperial children.
The world's oldest and most famous zoo.
Would We Recommend?
We would recommend visiting Vienna and in particular Schönbrunn Palace to absolutely anyone.
Top Tips
Best time to visit would be between March and October. Any later, and while it would be enjoyable the grounds would be very bare with it being winter.
Use the tourist train. Schönbrunn Palace grounds are huge and if tight for time, it is a wonderful way to see everything.
Thanks for reading
The Lewis Family.