One particularly wet and dull Sunday afternoon in March we decided to throw on some old clothes and wellies and take a trip to the Ark Open Farm.
Where Is It
The Ark Open Farm is located at 296 Bangor Road, Newtownards BT23 7PH on the A21 between Bangor and Newtownards, around 15 miles away from Belfast.
How To Get There
Bus – We used the bus service from Bangor. The bus leaves frequently Monday to Saturday, and every two hours on a Sunday.  We asked the driver to let us know what stop to get off and on at, and the farm was only a few minutes walk from there. Translink.
Car – There is plenty of car parking available opposite the main entry, and from what we seen the parking seemed to be free.
Opening Hours & Cost
Opening Hours
April – October
Monday – Saturday    10:00am – 6:00 pm
Sunday                            2:00pm – 6:00 pm
November – March
Monday – Saturday 10:00am – 5:00 pm
Sunday                         2:00pm – 5:00 pm
** Last Admission 4:00 pm
Cost
Family – £24.50 (2 Adults and a max of 3 Children)
Adult – £6.50 (18 years and above)
Child – £6.00 (3 Years and over)
Infant – Free (Under 3)
What To See And Do On The Ark Open Farm
Big Green Barn
In the barn were some ponies and donkeys, all off which were super friendly and cute.
Megan instantly fell in love with Copper the pony.  She showed no fear stroking and hugging her new friend.  Copper seemed to love the attention.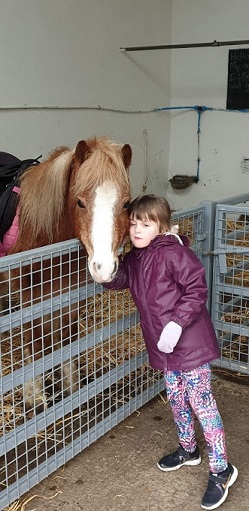 After much persuasion Megan finally agreed to leave her new friend, promising to come back later for more hugs. We headed into the next smaller barn  to see the the baby chicks.  Unfortunately as there were no staff in the room at the time, we didn't get to hold one – maybe next time!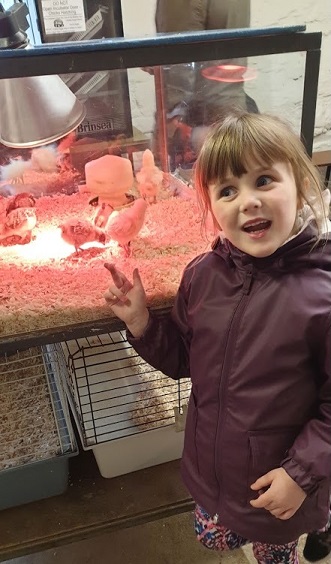 Mummy fell in love with Brian the Goat, or should I say Brian the Goat fell in love with mummy, and the tub of feed she had in her hand!!!. Brian is some character, he loves his food and isn't shy at giving you a tap on the back if you don't give him the attention he deserves.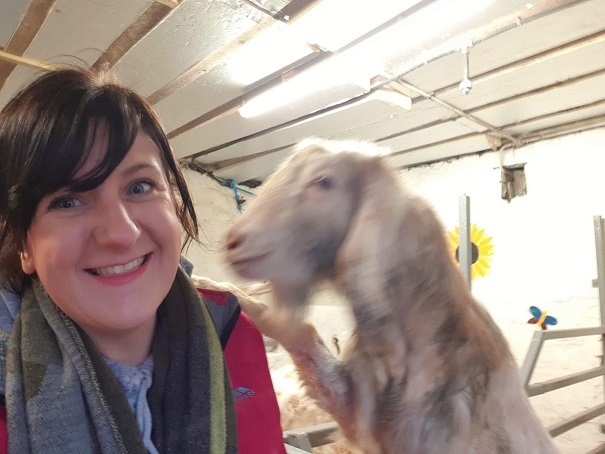 There is no limitation to how long you can spend on the farm, so we were free to take our time to walk around the many barns meeting all sorts of animals, including sheep, lambs, llamas and even a reindeer.
There was a feeding schedule clearly displayed giving times of when you could come back and help bottle feed the lambs, and sheep.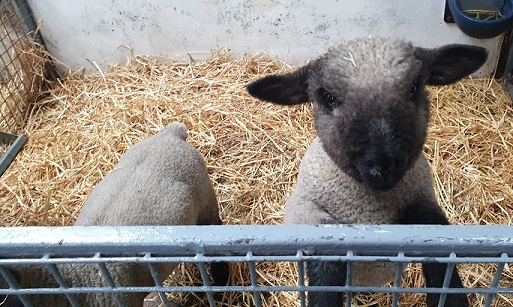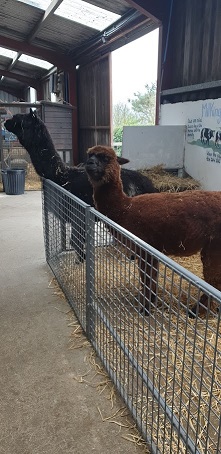 The wee lambs were a favourite for daddy.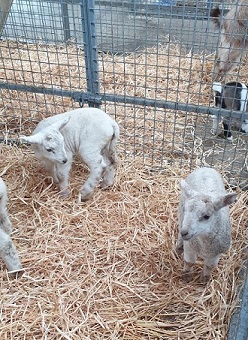 Creepy Crawly Loft
Every hour there is the opportunity to pay a visit to the creepy crawly loft, with staff on hand to let you hold a snake and other creepy crawly creatures!!
Sadly we didn't hang about for long enough here to take photos.  As soon as Daddy spotted the rats he was outta there.  Megan followed suit after a quick touch of the corn snakes tail.
Noah's Ark
How apt that we took shelter from the rain in the Ark.  The Ark is pretty big and gave us great views across the farm and further afield.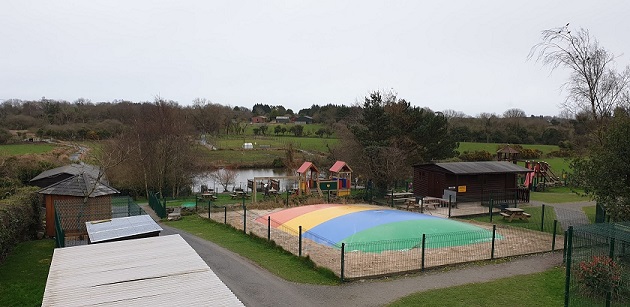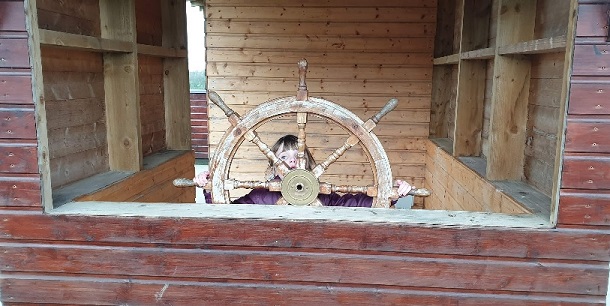 Farm Walk
The walk to the fairy tale forest is lined with fields filled with animals, a duck pond, indoor and outdoor play area, picnic benches and lots of other fun activities and things to look out for.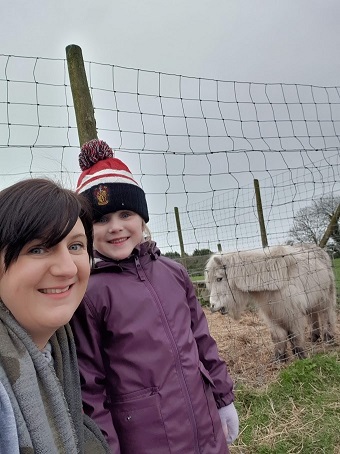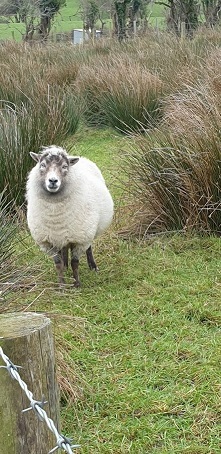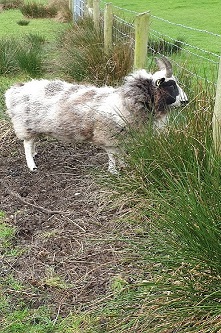 FAIRY TALE Forest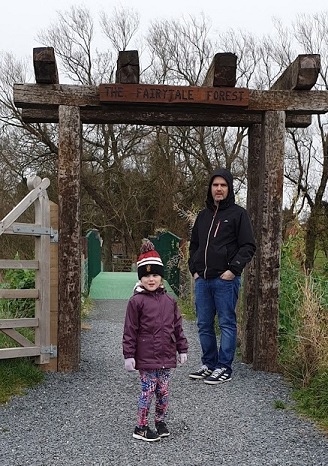 The fairy tale forest was one of Megan's favourite areas. After the initial disappointment of the new 'Jurassic Ark' area not yet being open to the public. "Fairy tales are rubbish and this is going to be so boring" she said on arrival… but within minutes she was running around spotting the little magic fairy doors attached to the trees all around the forest.
The highlight for us is the fantastic fairy tale houses belonging to little red riding hood and Rapunzel – set up just as you'd expect from the favourite children's tales.
This was a unexpected and fantastic area of the farm.  It is so beautifully done with plenty of areas to sit and relax, take in the views and maybe in the better weather have a spot of lunch.  There was also a small park, which Megan enjoyed playing in.  We can't wait to go back when the dinosaur part is open.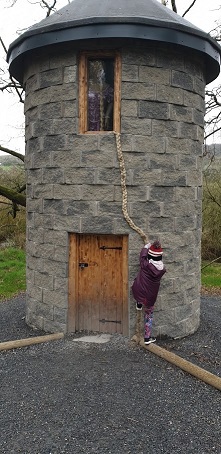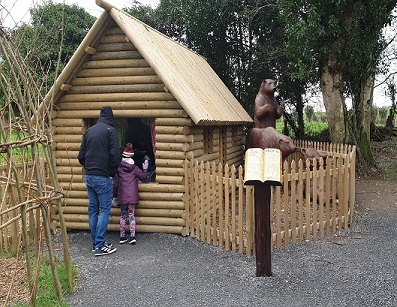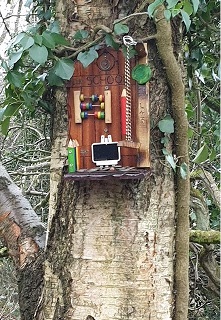 *Spoiler alert…. Jurassic Ark opens on 16th March. But here is a sneak peek.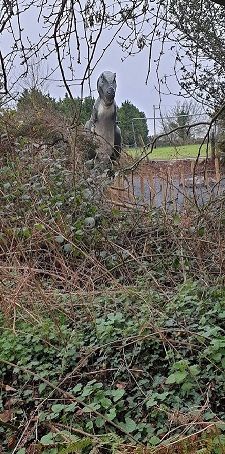 The Duck Pond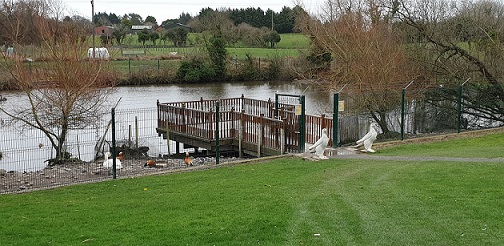 The duck pond is a tranquil area of the farm.  We came totally unprepared and without the essential bag of bread for the  ducks and swans.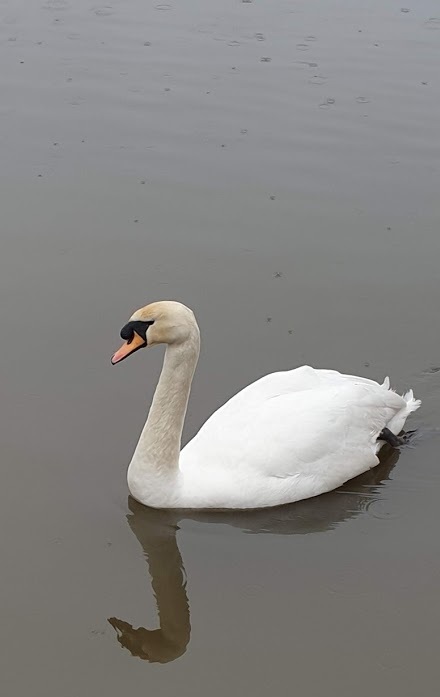 Outdoor Play Area
There is a huge outdoor play area which I imagine in the summer months to be a huge hit with the kids. Sadly as it was raining the day we went Megan didn't get a full run off the play area. However, she did get to recreate her zip line through the Costa Rican rain forest.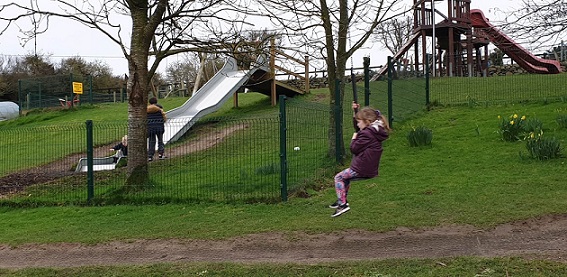 Indoor Play Area
The farm certainly caters for all weather with an indoor play area.  However the area is aimed at younger kids, with slides and ride on trackers and diggers and plenty of space to run and play.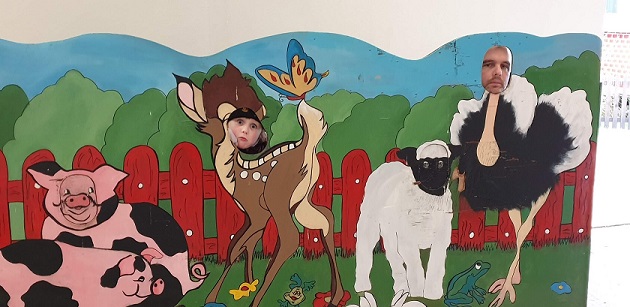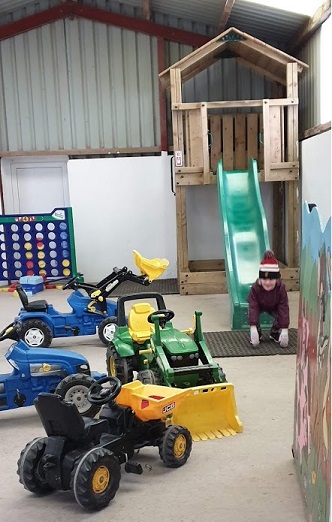 Pony Rides
Having promised to return to her friend Copper, Megan was delighted to hear she was available for a pony ride. The excitement on her face when she got a short ride on the Copper was well worth the £1.50 charge.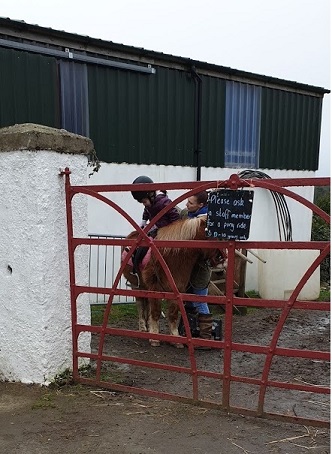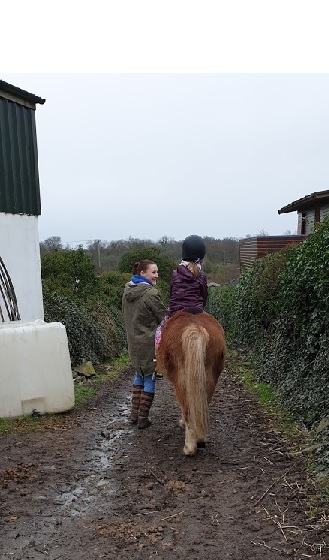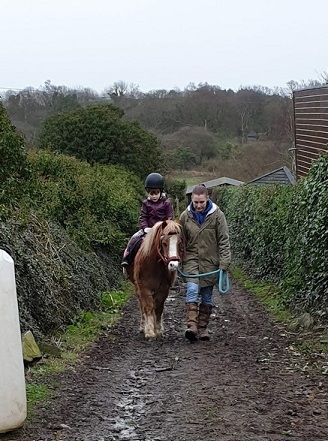 Would We Recommend The Ark Open Farm
Yes. While initially we did find the entry fees expensive (£19 for us three), we certainly changed our mind when we seen the amount of things to do and see.  There are some activities that you have to pay extra for such as the farm ride, the barrel ride and pony rides but compared to some places we have been the costs were reasonable.  Overall the reaction we got from Megan (5 years old) was well worth the money and the visit.
There is also a cafe on the farm which we didn't get to visit as we where wanting to catch the next bus.  The next time we go back we will make sure to call in for a cuppa.
Top Tips
Go in the warmer months, while there is plenty to do in the winter months you run the chance of getting soaked and cold on the walk to fairy tale forest.
Bring a picnic, while you cannot take food into The Ark Open Farm  cafe there is lovely wee picnic areas scattered all over the farm.
Don't forget to buy feed from the shop (50p per cup), not all animals are allowed it so be careful who you feed – there are signs clearly displayed. Also watch your pockets going through the goat pens, they know every hiding place available :-). Also, bring some bread for the ducks down at the duck pond.
If you enjoy reading about our days out in Northern Ireland. Check out our other blog post here – Northern Ireland
Thanks
The Lewis Family.