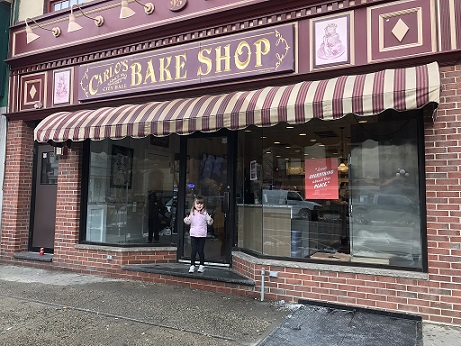 We couldn't visit NYC and not visit the famous Carlo's Bakery.  I spent most of my nine months maternity leave in my pj's watching Buddy 'The Cake Boss' Valestro make life size, life like cakes.  I wasn't missing the opportunity to sample that sweet pound cake in person.
There are a few Carlo's bakeries in New York, but as the saying goes if you're going to do it, do it right! So only the original shop in Hoboken, New Jersey would do!
Where Is It

The Original Carlo's Bakery is located at 95 Washington St, Hoboken, NJ
History
Carlo's is a family owned bakery made famous when it featured on the TLC hit show 'The Cake Boss'. Originally the bakery in Hoboken was opened by Carlo Guastaffero in 1910. The Valastro family purchased the bakery in 1964 and have since expanded the business across the country.
How to get there
We took the PATH from the WTC station to Hoboken Station and made the short walk from there.  For more details on the Path train and different routes click here.
Opening Hours
Carlo's Bakery is open 7 am – 9 pm, 7 days a week.
The day we visited the bakery was pretty quiet and luckily we only waited around 20 minutes in line, but on busy days the queues are known to be up to four hours wait! People tend to order multiple items, and the staff really take their time helping and advising – so don't expect to grab a cupcake and run!
Luckily you can now order online and collect in store if you know the exact date and time you will be going. However from memory you have to order in larger amounts.
Whats On Offer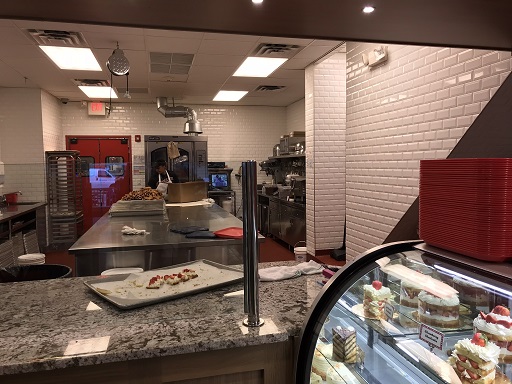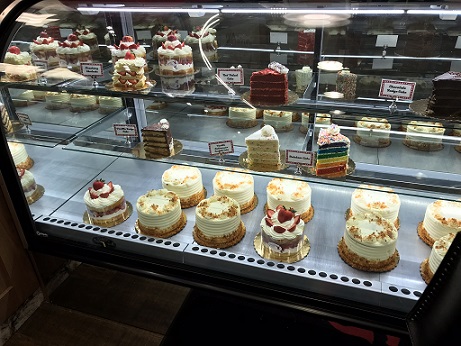 The bakery is filled with brightly coloured and beautifully decorated  treats and cakes, specialising in Italian pastries such as cannolis and lobster tails.
The choice on arrival was a little overwhelming but the staff are super friendly and on hand to help out.
Of course I wanted one of everything! Eventually we opted for a cannoli filled with chocolate chips and ricotta, a slice of rainbow cake to eat in, and a slice of carrot cake to take home.
You can also buy whole cakes, which sell out super quick.  We were behind a family in the queue who had driven miles for a double chocolate fudge cake, only to watch the last one go to the lady just in front – heartbreaking stuff!!
The bakery also offers sit in and takeaway coffees and all the usual merchandise.
It was a little expensive, but the portions are huge and delicious, so well worth the price tag.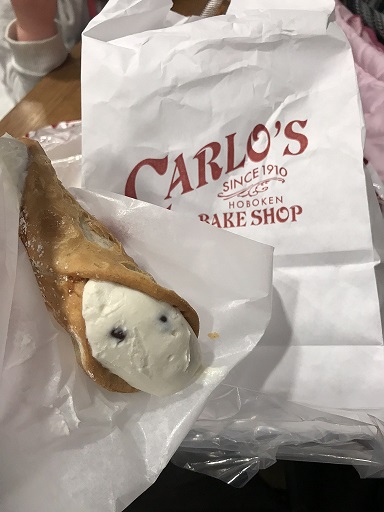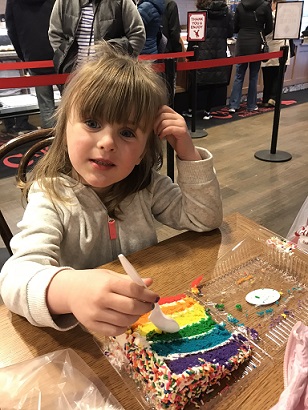 Carlo's bakery did not disappoint. The cannoli was everything I wanted it to be -amazing, creamy, crunchy and sweet.  Megan loved her huge slice of rainbow cake, it was so soft and fresh and tasted as good as it looked.
I had my carrot cake at the airport on the way home, which was as well as I would of had us all back for the whole cake if it wasn't nearly time to board.  It was the best cream cheese frosting I've ever had!!
Would We Recommend
Yes. Carlo's Bakery is a must for any The Cake Boss fan. While there are other stores within NYC and New Jersey, you just have to visit the Hoboken store.
Top Tips
Go early or mid week, as you can see from our photos it was pretty quiet.  During weekends and holidays the line can run the length of the street. With waiting times as long as 4 hours to get inside.
Check out the online menu, and if you know when you're visiting pre order – if not be prepared for your chosen items to be sold out.
Try a Cannoll or a Lobster Tail – It'll change your life*
*Okay, it won't really but you get the point!
Thanks for reading!
The Lewis family.
More posts on the USA, found here.